We offer an extensive range of assays in human genitourinary tissues including uterus, bladder, prostate, ureter and urethra. Our scientists can estimate the therapeutic efficacy of potential new therapies or assess the likelihood of off-target effects in these tissues.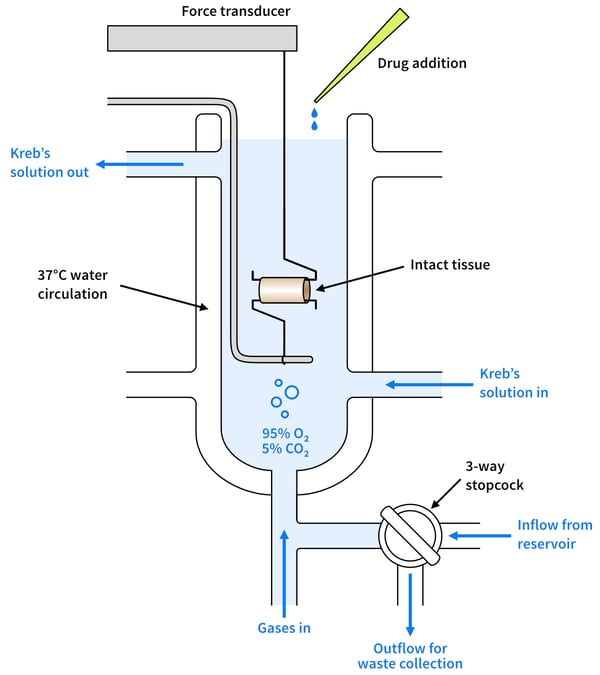 Diagram of the organ bath model used for our Genitourinary studies.
---
Uterine Contractility
Alterations to the function of the uterus may have adverse effects on human health (pregnancy, dysmenorrhea etc.). Our uterine contractility model uses fresh, functional human uterine tissue to determine whether your test article causes contraction or relaxation of this organ.
---
Uterine Relaxation
In addition to measuring uterine contraction, we can also assess the relaxation effects of your test article on uterine tissue. A range of reference compounds can be used to assess relaxation including isoprenaline, isradipine, and sodium nitroprusside (SNP).
---
Bladder contraction and relaxation
The primary function of the bladder is to store urine before micturition. Alterations to the contraction and relaxation of the bladder can affect filling and emptying, causing disorders such as incontinence and bladder hypertrophy. We can assess the effect of your test article on bladder smooth muscle tone using fresh functional bladder tissues.
---
---
Urethra contraction
The urethra is essential for the excretion of urine and semen. Any changes to the urethra, such as prostate hypertrophy, can affect the passage of these substances. We can assess the effects of your test article on the contraction (or relaxation) of the human urethra using our organ bath system.
Urethra contraction model
Assess whether your test article causes contraction of the urethra, with phenylephrine as a reference compound.

Adrenoceptor-phenylephrine model →