Uterine Contractility
Alterations to the function of the uterus may have adverse effects on human health (pregnancy, dysmenorrhea etc.). Our uterine contractility model uses fresh, functional human uterine tissue to determine whether your test article causes contraction or relaxation of this organ.
Both IC50 and pA2 can be determined
Three reference compounds available (vasopressin, oxytocin, and phenylephrine)

Test article effect can be assessed in the presence of an antagonist

Safety assessments can be conducted in accordance with GLP regulations

Rat uterine tissues can be used to provide a comparison with human uterine tissue
Image: Example of fresh uterine tissue used for our uterine contractility studies.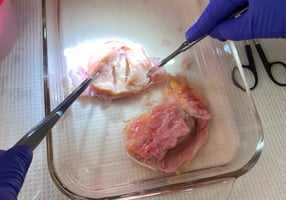 Rat Uterine contractility (oxytocin)
Determine whether your test article affects rat uterine contractility via oxytocin receptors. Can be used in comparative studies to investigate species differences.