Precision-Cut Lung Slices (PCLS)
Precision-cut lung slices (PCLS) are increasingly in demand for the testing of novel drugs and biochemicals. By retaining the structural and functional integrity of human or animal lungs, PCLS combines throughput with relevance, offering a phenotypically accurate model for drug discovery.
Tissues from healthy, animal, COPD, or asthma donors can be obtained
Dozens of slices can be created per donor and cultured for up to 7 days
Biomarker release, structural integrity, tissue viability, and inflammation can be evaluated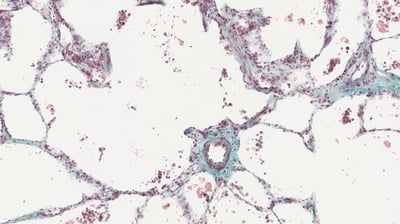 Image: Histochemical analysis of a lung slice used in our PCLS studies.
REPROCELL PCLS system - find out more