What are induced pluripotent stem cells?
Induced pluripotent stem cells (iPSCs) are at the core of our company's business. These stem cells have been heavily commercialized since their discovery in 2006 and can be used to generate any tissue type including cardiac muscle, nerves, liver, and blood. iPSCs can be multiplied indefinitely and have a variety of applications including disease modeling, drug screening, and regenerative medicine.
Key advantages of iPSCs
Can differentiate (transform) into any other type of cell
Multiply indefinitely
Produced from the cells of the patient, so carry a reduced risk of transplant rejection
Avoid the ethical concerns of embryonic stem cells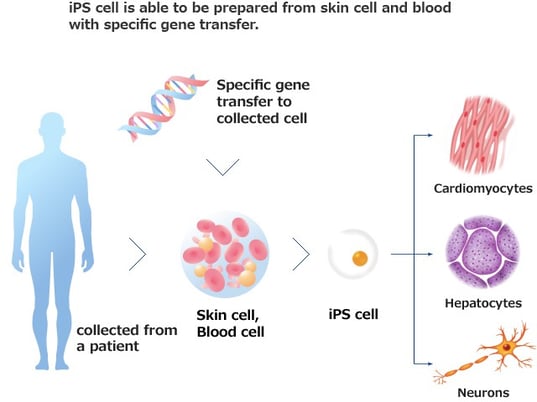 ---
Applications of iPSCs in research and medicine
iPSCs can transform into any other cell and multiply easily granting them a wide range of applications. Beyond their research capabilities, iPSCs have the potential for use in personalized medicine and donor-free regenerative treatments. Already, huge advances have been made in innovation in medical biotechnology as a result of the commercialization of iPSC technologies. Below, we have summarized the key products and services currently offered by REPROCELL and which customers they target.
Research Reagents
At REPROCELL, we produce and sell reagents for iPSC research. These highly specialized reagents vary based on the type of iPSC, plus the methods used for multiplication and measurement. Products we offer researchers include culture fluids, dissociation solutions, preservation solutions, coatings, and antibodies.
Target customers:

Public research organizations e.g. universities
Private research organizations e.g. drug manufacturers
Drug Discovery
We also produce iPSC-derived cells for use in drug discovery screening including patient-derived Alzheimer's disease cells. These can be used by pharmaceutical companies to effectively evaluate the safety and efficacy of drug candidates. It is hoped that sophisticated in vitro models like these will largely replace animal testing in the future.
Target customers:

Public research organizations e.g. universities
Private research organizations e.g. drug manufacturers
Precision Medicine
In the future, iPSCs derived from a patient's tissues could be used to assess treatment compatibility and identify the ideal dosing schedule for an individual patient.
Target customers:

Individual patients
Public and private hospitals
Regenerative Medicine
Until now, regenerative medicine has relied on a limited supply of tissues from human donors. As iPSCs can multiply indefinitely, they could be used to create an unlimited supply of somatic cells for transplantation, eliminating the need for tissue donors. At REPROCELL, we offer a GMP-grade iPSC master cell bank service that can be used to produce iPSCs for use in the clinical setting.
| | |
| --- | --- |
| | Target customers: |
---
REPROCELL's Growth Strategy
Across the globe, iPSC research is advancing. New technologies are broadening their applications in medical biotechnology. By responding to the market's increasing demands with high-quality human iPSC-based products, we can expand and grow our business.
Our venture fund, Cell Innovation Partners, L.P., was established in partnership with the Shinsei Bank Group. It aims to acquire promising novel technologies, targeting ventures related to iPSCs or regenerative medicine and proactively investing globally.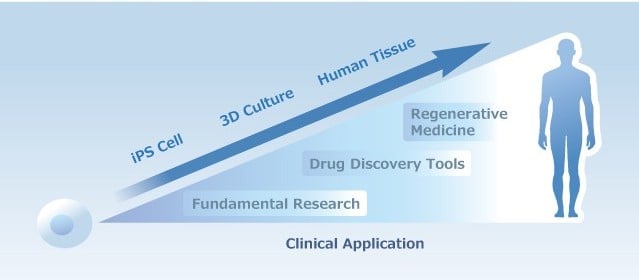 ---
Public Assistance and Development of Laws
As a growing industry, we are supported by the government in Japan. As part of its growth plan, the Japanese administration has pledged 110 billion yen over 10 years to support medical research using iPSCs. It has also established a "Japanese National Institutes of Health", based on the USA's NIH, and has revised the Pharmaceutical Affairs Law to approve medical technologies quicker.
Our headquarters is based in a special zone for iPSC Research
REPROCELL's headquarters is based in Yokohama City, Kanagawa Prefecture, which is part of the Life Innovation in Keihin Coastal Areas "Comprehensive Special Zones for International Competitiveness Development". This zone aims to increase international competitiveness by allowing global businesses to lead medicine and medical equipment production, helping related industries and SMEs prosper.
The legislation in Japan supports regenerative medicine
Two laws came into effect on November 25, 2014. These not only clarified the standards and processes for regenerative medicine products but also accelerated the approval process:
The "Law on Guaranteeing Safety in Regenerative Medicine" or "Regenerative Medicine Law"
The "Law on Guaranteeing Safety, Efficacy, and Quality in Medical Supplies and Equipment," also called the "Medical Supplies and Equipment Law"

---
REPROCELL's Competitive Edge
There are three key ways that REPROCELL differentiates itself in the competitive iPSC market:
An abundance of iPS cell products: We maximize convenience by becoming a one-stop solution for a wide assortment of iPS cell products.
Marketing channels on a global scale and expanding internet sales: We are expanding our marketing channels to a global scale by leveraging our whole group's customer base. We also plan to generate low-cost, high-efficiency sales by expanding our effective internet marketing.
A global research network: We will develop new, highly competitive products by strengthening the connection between the technical foundations of our group's companies in Japan, America, and Europe, and by continually absorbing the seeds of the world's most cutting-edge technologies.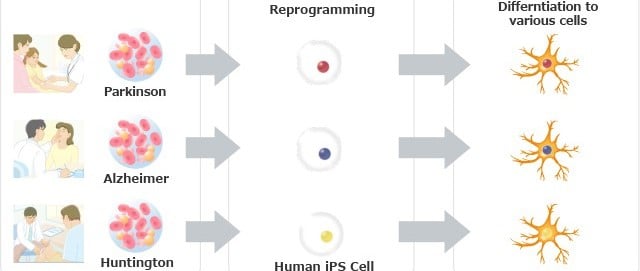 ---
Safe Harbor Statement
Statements made on our website with respect to current plans, estimates, strategies, and beliefs and other statements that are not historical facts are forward-looking statements about the future performance of REPROCELL Incorporated and REPROCELL Incorporated Group.
From time to time, oral or written forward-looking statements may also be included in other materials released to the public. These statements are based on management's assumptions, judgments, and beliefs in light of the information currently available to it. REPROCELL Incorporated cautions you that a number of important risks and uncertainties could cause actual results to differ materially from those discussed in the forward-looking statements, and therefore you should not place undue reliance on them. You also should not rely on any obligation of REPROCELL Incorporated to update or revise any forward-looking statements, whether as a result of new information, future events, or otherwise. REPROCELL Incorporated disclaims any such obligation. Risks and uncertainties that might affect REPROCELL Incorporated include, but are not limited to:
The global economic environment which REPROCELL Incorporated or customer of REPROCELL Incorporated operates
Fluctuation in foreign exchange rates
Changes in the laws, regulations, and government policies in the jurisdictions where REPROCELL Incorporated operates
Political and economic instability in the jurisdictions where REPROCELL Incorporated operates
REPROCELL Incorporated's ability to:

Develop and introduce new products in a timely manner
Recoup large-scale investments required for technology development and production capacity
Devote sufficient resources to research and development
Maintain product quality
Forecast demands, manage timely procurement, and control inventories Risks related to catastrophic disasters or similar events
Download our Corporate Profile
Find out more about the history, philosophy, and business structure of REPROCELL.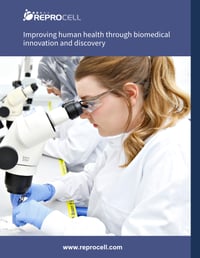 Download our Company Capabilities Brochure
Find out more about the services and products we offer to better translate your discoveries into therapies.