REPROCELL Biopta – The Human Tissue Experts
Human tissue testing is a translational approach to drug discovery that bridges the gap between animal studies and clinical trials — increasing clinical success rates and adding commercial value to preclinical drug assets through proof of concept in patient-derived living tissues.
At REPROCELL (formerly Biopta) we can access a wide range of human fresh, functional, intact tissues that allow accurate prediction of human safety, efficacy, and bioavailability in ethically sourced healthy and diseased biospecimens. Our 24/7 global tissue network and GLP lab operation is unique within the Pharma industry, allowing unrivaled access to human functional tissues and customized fee-for-service contract research.
Many of our clients have successfully published data generated in our organotypic human tissue assays. Some clients have even managed to rescue their compounds from clinical failure, by using biospecimens from the target patient population to explore the causes of adverse effects, allowing them to identify suitable mitigation strategies.
We can also provide species comparative studies to explore differences between human and animal responses, as animal models often don't reflect human biology. You can view our catalog and some of our client case studies below.
Browse our assay catalog
REPROCELL is home to the world's first and largest human fresh tissue assay catalog. In this digital platform, you can filter our assays by tissue type, endpoint, receptor, platform technology, drug type, and more.
Improve Clinical Success
REPROCELL can help you reduce the risks of clinical failure via our organotypic assays. Human tissue testing gives an accurate indication of human safety (including GLP studies), efficacy, and bioavailability in advance of expensive clinical trials.
This invaluable information allows you to make 'go' or 'no-go' decisions with greater confidence, based on human data generated in biospecimens sourced from the target patient population.
Our expertise in all areas of human tissue testing – including ethics, sourcing, handling, and fee-for-service experiments in human fresh tissue – allows us to act as your "Human Tissue Research Department".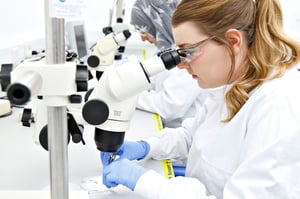 Achieve Regulatory Approval
Human tissue testing is being increasingly recognized for its translatability. As a result, the regulators encourage the use of human tissue testing in safety assessment.
When the International Partnership for Microbicides (IPM) approached the EMA for approval of an intravaginal drug-eluting ring to reduce the incidence of HIV transmission, additional data was requested to investigate the potential effects on surrounding organs.
Our scientists designed and conducted a study in human fresh uterine tissue, measuring the effects of the drug on uterine contractility. No effect on uterine contractility was observed ex vivo, which contributed to the safety assessment process, and in 2020, the ring received regulatory approval in Europe.

Avoid Species Differences
Preclinical models remain over-reliant on animals and simple cell culture systems. Although many biological pathways are conserved across species, significant differences in drug response, drug metabolism, and drug absorption exist between animals and humans.
Predictive preclinical assays in fresh, intact biospecimens avoid species differences, providing a more accurate prediction of the likely responses of patients during clinical trials. Moreover, the advent of precision medicine is driving the need for human-relevant predictions of drug efficacy, to better understand drug effects in patient sub-populations much earlier in drug development.
Read our case study on Amgen's publication, which highlights the useful comparisons that can be made between matched tissues from preclinical species and humans. The species comparison studies allowed identification of the receptors involved in the adverse effects observed in the clinic and underpinned a risk mitigation strategy to counteract side effects.

Eliminate Clinical Adverse Effects
Adverse effects may go undetected during preclinical safety assessments and only become apparent during clinical trials. In most cases, such adverse effects in humans were not observed in animal models.
At REPROCELL, we investigate adverse effects using human fresh tissues to better understand mechanisms of action and identify mitigation strategies.