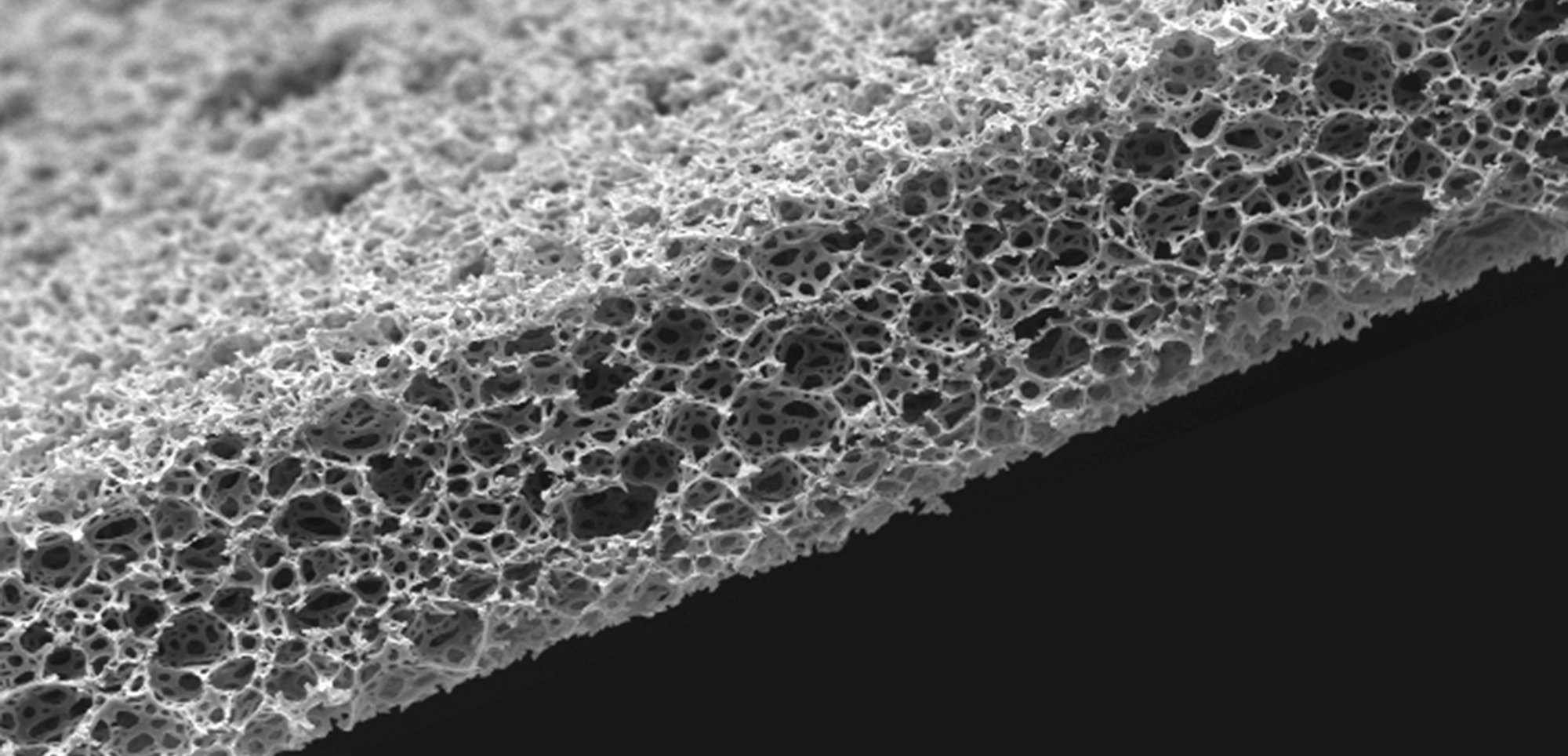 REPROCELL Brand: ALvetex™
Cells grown in Alvetex maintain their in vivo morphology, behaviour and responsiveness within an in vitro model system.
Alvetex is a highly porous polystyrene scaffold presented as a 200 µm thick membrane, adapted to fit a variety of conventional cell culture plasticware formats.
Alvetex 3D cell culture systems enable cells to maintain their natural shape and to freely interact with neighbouring cells in 3D so that they function in a more physiologically relevant manner.
Alvetex enhances the biological relevance of your cell culture research
Typical mammalian cells are around 10-25 µm in size and are rarely further than 0-50 µm from another cell or 100-200 µm from a source of nutrients via a blood capillary.
By recreating this complex cellular organisation and environment experienced by cells within their native tissues, Alvetex 3D cell culture enables more accurate investigation into the study of cell behaviour and function compared with conventional 2D model systems.
Cells grow and divide occupying the 3D space within Alvetex Scaffold (or in many instances, on top of Alvetex Strata), maintaining their natural shape and forming complex interactions with one another in a manner that closely mimics normal growth in tissues. The cells may lay down extra-cellular matrix which often leads to the formation of "mini-slab" tissue-like structures.
Alvetex is compatible with a broad range of standard molecular, cellular and histological techniques.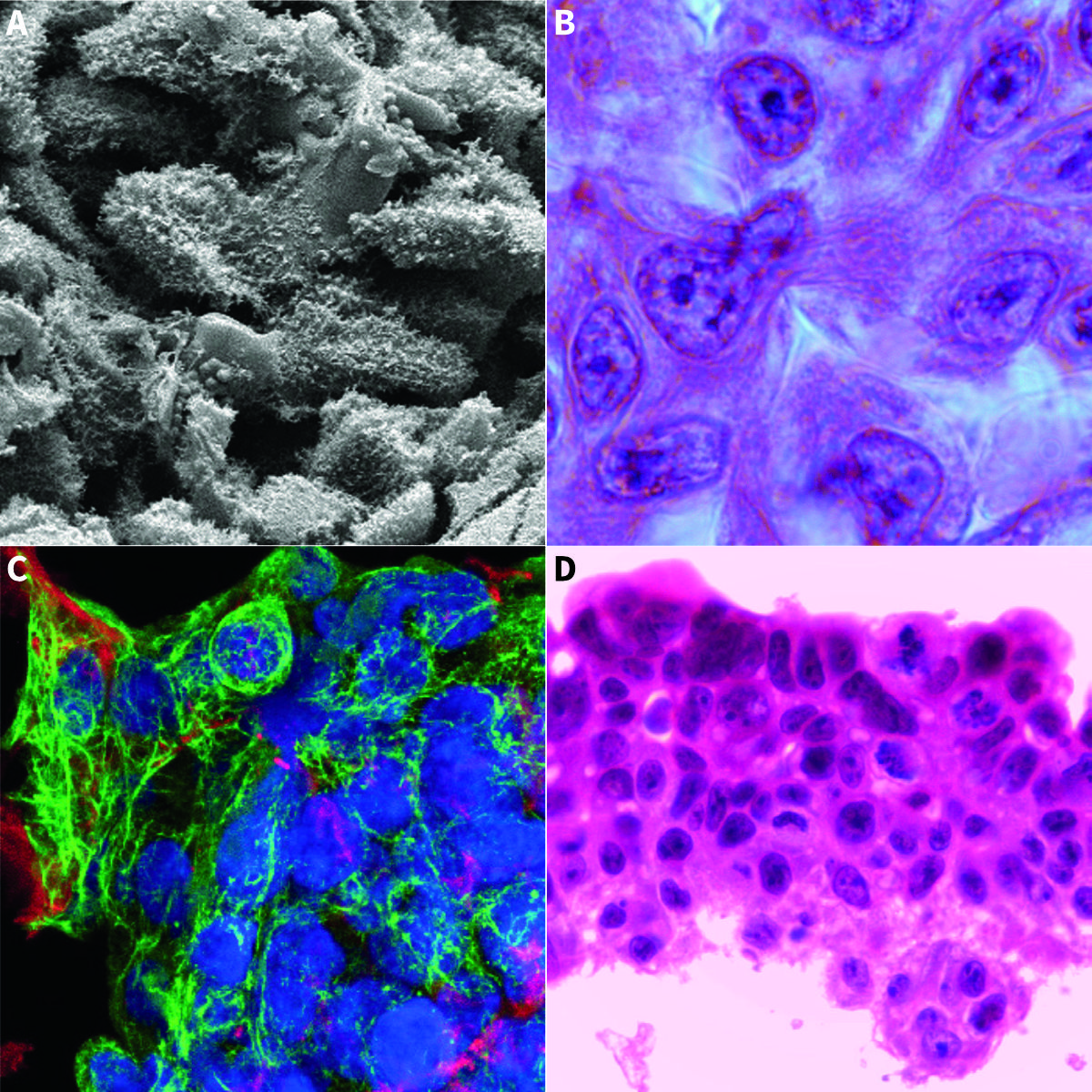 Image: Examples of cells grown on Alvetex, visualised by various techniques. A: Scanning Electron Micrograph of cells grown throughout Alvetex Scaffold. B: Murine keratinocytes grown in Alvetex Scaffold; fixed, embedded, Paraffin sectioned, stained and viewed by bright field microscopy. C: Hepatocarcinoma HepG2 cells grown on Alvetex Scaffold. Triple fluorescent stained and viewed by confocal microscopy. D: Caco-2 cells in 3D growth on top of Alvetex Strata.
Alvetex 3D cell culture systems:
a range of plasticware formats for all your applications
Alvetex is available in multiple configurations including multi-well plates and hanging well inserts allowing a variety of approaches and cell culture applications.
Alvetex Scaffold multiwell plates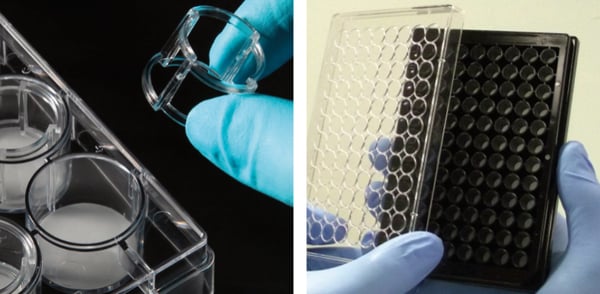 Alvetex Scaffold & Alvetex Strata well inserts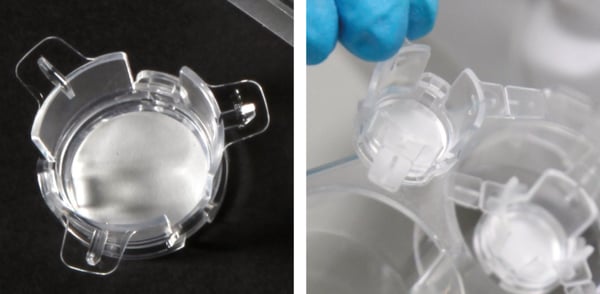 Alvetex well insert holder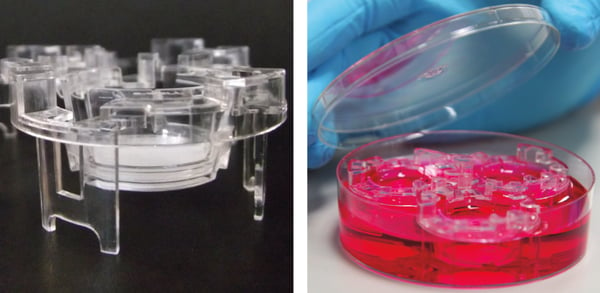 Alvetex perfusion plates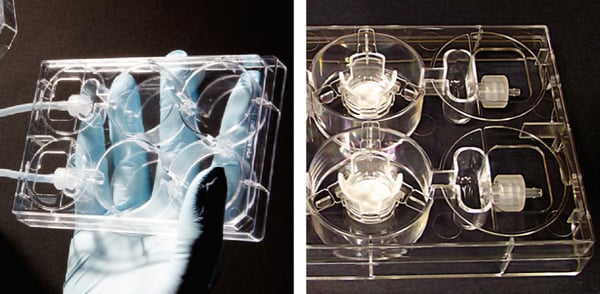 Different Alvetex architectures to suit your research needs
Alvetex is currently available in two types: Alvetex Scaffold and Alvetex Strata. Both materials are presented as 200 µm thick membranes of highly porous cross-linked polystyrene. The difference is in their fine structure and architecture.
Alvetex Scaffold
Alvetex Scaffold, our market leading product, is primarily designed for three dimensional culture of dissociated mammalian cells within the scaffold. Average void size: 42 μm.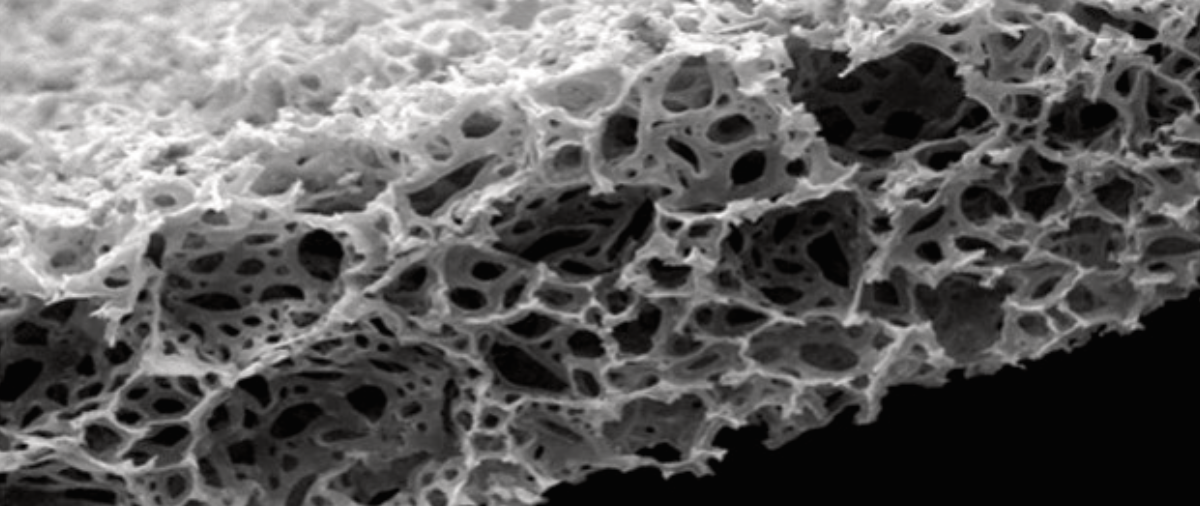 Alvetex Strata
Alvetex Strata, our second generation product, is primarily designed to support the growth of cells and intact tissues on the surface of the membrane. Average void size: 15 μm.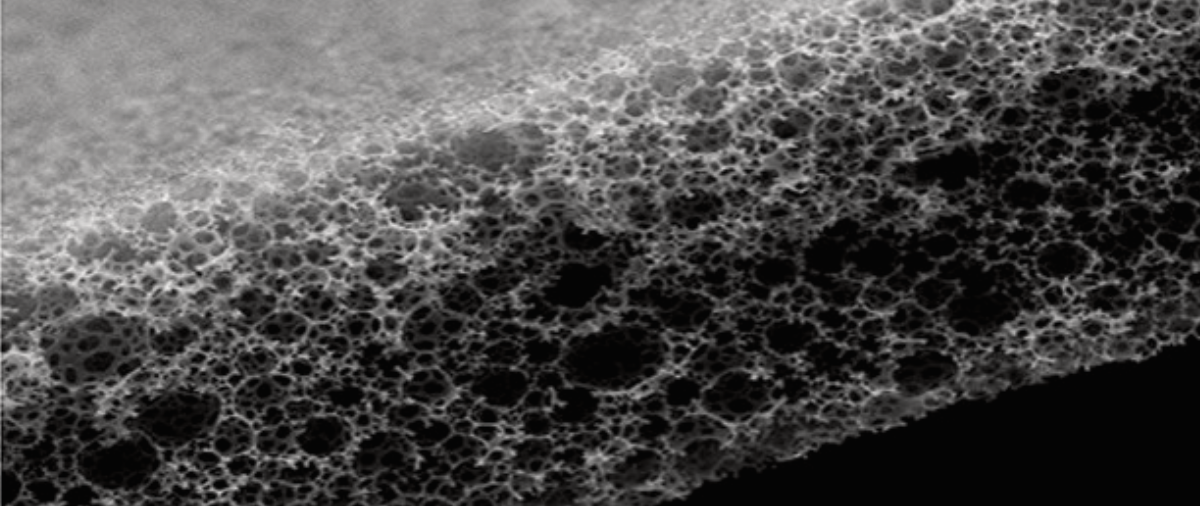 The History of Alvetex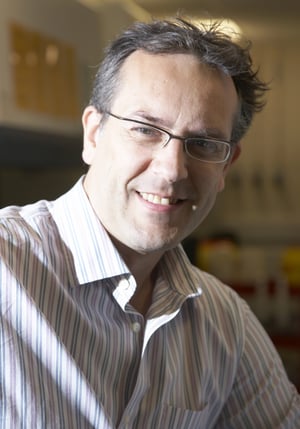 Growth of mammalian cells in 3D has been practiced for many decades using various materials and approaches. Alvetex 3D cell culture technology was originally pioneered in the laboratory of Professor Stefan Przyborski at Durham University (UK).
Stefan has over 30 years of research experience within the fields of cell and tissue biology with specialization in stem cell science, cell differentiation and the development of advanced technologies that enable the construction of human tissues in vitro.
Prof. Przyborski's interdisciplinary research at the boundaries of physical science and biology led to the development of Alvetex in the early 2000's. He founded the company Reinnervate Ltd in 2002 with the purpose of commercializing and further developing Alvetex products and services.
Alvetex was named among the winners of The Scientist magazine's "Top 10 Life Science Innovations of 2010" and was voted one of the Top 100 Innovative Products of 2011 at the R&D 100 Awards. Several other awards have since followed. Alvetex is arguably the market leading physical scaffold product that supports robust and routine 3D cell culture.
In 2013, Alvetex was chosen by a research group at Massachusetts General Hospital (USA) for 3D culturing of murine osteocytes on the International Space Station (ISS) for the study of bone loss during space flight. These microgravity experiments took place onboard the ISS in 2015.
Recognizing the future of 3D cell culture applications and tissue engineered in vitro models for drug discovery and regenerative medicine, REPROCELL Inc. (Japan) acquired Reinnervate in 2014 and merged it with Biopta Ltd. (Glasgow, UK) to form REPROCELL Europe Ltd. in 2016.
Reinnervate (formerly), the REPROCELL Group, Professor Przyborski's academic lab at Durham University, and many scientists around the world have used Alvetex with success in their research. This research has generated significant amounts of data which has been published extensively in peer-reviewed journals. This body of scientific literature continues to grow year on year, and it exemplifies the use of Alvetex in multiple applications with many cell and tissue types.
Stefan Przyborski has remained active in the organization and currently serves as Chief Scientific Officer of the REPROCELL Europe Ltd, in addition to his academic role as Professor of Cell Technology in the department of Biosciences at Durham University (UK). He runs an active research laboratory at Durham University consisting of post-doctoral and postgraduate researchers. His group is well funded and regularly publishes their work in peer reviewed journals.
In both his Durham University lab and in REPROCELL Europe, Prof. Przyborski continues to lead research and development of new applications for 3D cell culture technologies and the generation of novel human tissue models that can be used in academia and industry for basic research, drug screening and safety assessment.
Alvetex 3D cell culture technology continues to be developed, produced and distributed by REPROCELL worldwide. And with our own expertise and experience, REPROCELL also now offers worldwide 3D cell culture and bioengineered human tissue model services built around the Alvetex platform.
Alvetex awards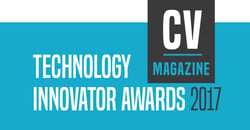 Corporate Vision magazine
Technology Innovator Awards 2017:
"Best for Cell and Tissue Biology Research – UK"
(pages 60-61)


Corporate Vision magazine
Technology Innovator Awards 2015:
"Most Advanced 3D Cell Technology"
(pages 25-25)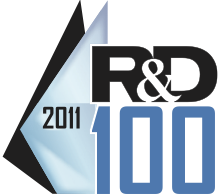 R&D World magazine:
Alvetex winner of the "2011 R&D 100"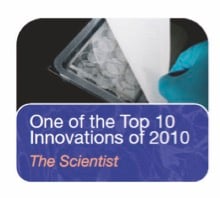 The Scientist magazine:
Alvetex in the "Top 10 Innovations"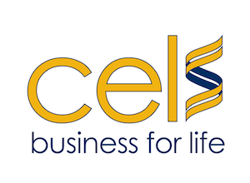 CELS Business for Life Awards (2008):
Durham University (UK) spin-out company Reinnervate* awarded Business Start-up of the Year (2008) (page 15)
*Reinnervate Ltd was acquired by REPROCELL Inc in 2014. It was merged with Biopta Ltd to form REPROCELL Europe Ltd.
Discover more about Alvetex
Alvetex Products
Multiwell plates
Well inserts
Tools