Predictive Drug Discovery Services


Skin/Skin Model Assays
---
REPROCELL can access fresh healthy tissue from operations such as abdominoplasties. As well as a rich source of subcutaneous resistance vessels for vascular studies, this tissue is also used to provide full thickness biopsies of various sizes. Biopsies are cultured in media for up to 7 days to provide a biological test system for investigative biology and compound testing. For example, biopsies can be stimulated to release IL-17, providing a test system for a pathway that is implicated in the pathogenesis of psoriasis.
REPROCELL also has the ability to source tissue from patients with skin conditions such as psoriasis and atopic dermatitis. These patients are recruited into clinical sites where they donate multiple biopsies for the research projects at REPROCELL. The data from these valuable diseased tissues complements the information from the healthy human tissue systems and provides the researcher with translational models to answer many drug discovery questions.
One of these key areas is the assessment of anti-inflammatory activity in fresh full thickness ex vivo human skin.
Inflammation model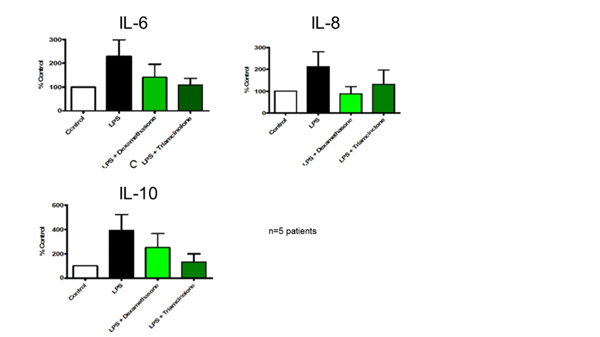 Our inflammation model is an ideal method of assessing the anti-inflammatory properties of your test compound in vitro, up to 20 conditions can be assessed using skin from a single donor allowing for a comparatively high throughput and quick turnaround. Test article can be added to the culture media or applied topically and the resultant changes in cytokines and other inflammatory mediators can be assessed by multiplex ELISA.
An acute inflammatory response is simulated in healthy, full thickmess, human skin biopsies, sourced from cosmetic surgery procedures, using LPL, PHA or UV light. Inflammatory mediators and cytokines such as IL-6, IL-8 and IL-10 are increased and the anti-infammatory effects of your test compound can be assessed by measuring the resultant effects on these inflammatory mediators.
Above is some sample data from our validation with dexamethasone and triamcinolone, where the creams were applied topically to skin samples which had been stimulated with LPS. It is possible to obtain between 20 to 30 separate biopsies from each individual donor, meaning several compounds can be screened simultaneously for anti-inflammatory effects.
Psoriasis models: induction of Th17 phenotype in healthy human skin cultures
Psoriasis is a major focus of RandD in the pharmaceutical industry. Treatment options are limited and new therapies treating the underlying causes of psoriasis are needed. REPROCELL has developed a human fresh skin Th17 model that allows topical or systemic administration of new test compounds and subsequent measurement of changes in gene expression or cytokines.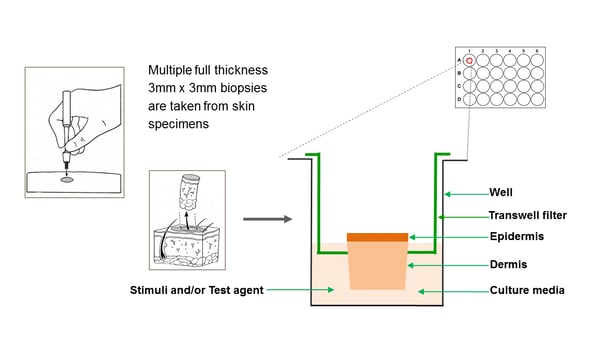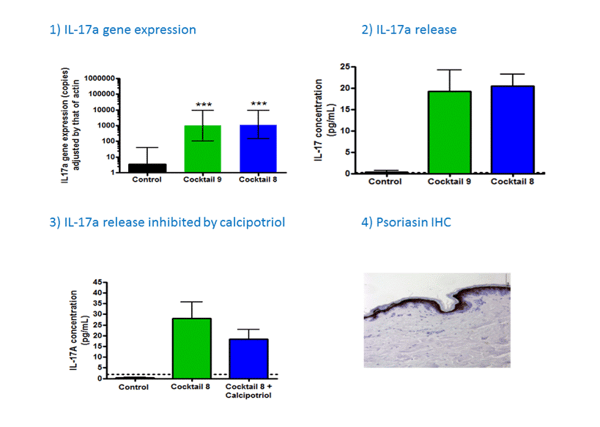 The Th17 model has been used in numerous studies by clients in the pharmaceutical industry to help better predict the activity of new compounds in a human test system. For an example of a recent client-led project please make an inquiry.
Go to the Drug Discovery Assay Catalog »