3D Neurite Outgrowth Model
By measuring neurite outgrowth you can assess the effects of your test articles on neurite formation or toxicity. Our translational neurite outgrowth model combines our award-winning Alvetex scaffold technology with iPSC-derived human neurons to produce a mature, neuronal network that develops dense synaptic connections.
Developed in partnership with the University of Durham, REPROCELL's iPSC-derived StemRNA™ Neuro cells - available as healthy wild-type and Alzheimer Disease patient-derived (presenilin 2 mutation) - are used to assess pathological changes in vitro. This system is compatible with many physiological and pathological ECM coatings (laminin, CSPGs), known pathway inhibitors, and therapeutic lead compounds.
Measure inhibition and recovery of neurite outgrowth
Use iPSC-derived

StemRNA™ Neuro

cells derived from healthy or Alzheimer Disease donors
Explore pathological changes in functional human cells

in vitro
Assess physiological and pathological ECM coatings, known pathway inhibitors, and test articles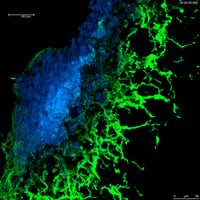 Immunocytochemistry analysis showing neurites in our 3D outgrowth model.