Predictive Drug Discovery Services


Therapeutic Areas: Inflammation
---
Chronic inflammation is central to a number of human diseases, including atherosclerosis IBD, asthma, and rheumatoid arthritis. As such, inflammation represents a promising target for research into new therapies for these conditions. REPROCELL offers a number of services for inflammatory disease research.
Inflammatory Bowel Disease (IBD) Assays
The science behind our unique assay
If you are developing novel compounds for IBD, REPROCELL is your ideal partner for human tissue research. By combining drug efficacy data with a full medical history from each donor, our unique assay captures interpatient variation at the preclinical stage.
Protocol for an IBD culture study
Once IBD tissue is made available from our global network of biorepositories, tissues are transported to our Glasgow (UK) or Maryland (USA) laboratory. Upon arrival, resections are inspected to ensure they are of experimental quality.
To minimize tissue damage, our skilled RandD team prepare full-thickness biopsies using a scalpel rather than punch biopsy. Cultures are maintained in a 12 well plate for up to 24 hours and can be exposed to a range of test agents during this time.
What is included in our IBD predictive drug discovery services?
✓ A customized project to meet your research goals.
✓ An expert Study Director assigned to manage each project as your single point of contact from initiation to report.
✓ Rapid access to human healthy and diseased tissues, through our industry-leading human tissue network.
✓ GLP projects available.
✓ Ownership of all data generated during the project.
Investigating the anti-inflammatory effects of drugs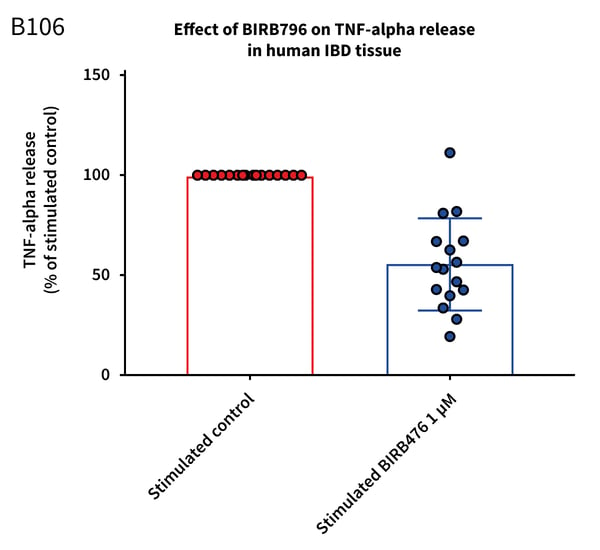 This IBD study aimed assess whether the test agents could reduce TNFα release. Mucosal biopsies donated by 16 IBD patients were used to create a phenotypically relevant model of the disease. BIRBR796 was used as a reference compound, and the molecular target was p38 MAP Kinase.
Analysis revealed a mean reduction in TNFα release in stimulated biopsies from Crohn's and UC donors of 56.49 % ± 5.76 (mean ± S.E.M).
IBD Assays – frequently asked questions
❖ What is the estimated turnaround time for these studies?
For an IBD culture study requiring three donors, the estimated turnaround time is six weeks. This timeline is a guide based on REPROCELL's standard tissue criteria and may be altered by client-imposed deviations.
❖ What are the test agent requirements?
We ask that the test agent is provided in storable aliquots at the required test concentrations. Information should be provided on the diluent vehicle used, or else stock solutions are prepared in distilled water. The sponsor is also asked to provide a sufficient quantity of the test agent to run the entire study.
❖ Are there exclusion criteria for donated tissues?
There are no specific exclusion criteria in place; however, donated tissues that are macroscopically diseased or necrotic will be rejected.
❖ How are tissues standardised and qualified?
All biopsies are prepared at a standard size of approximately 5mm2 and can be weighed post experimentation. Due to the time limitations of using the tissues when fresh, tissues are qualified post-experimentation.
❖ What conditions do you recommend for ex vivo culture studies?
It is recommended a minimum of triplicates should be used for each condition. An ex-ample of the conditions assessed for three test agents would be as follows:

❖ How do you perform end-point analysis?
Supernatant samples can be analysed for specific analytes of your choice by a multiplex ELISA platform. Each analyte will be quantified by interpolation against a standard curve generated on the same 96 well analysis plate. Other forms of end-point analysis are also available, such as gene expression or immunohistochemistry.
Your trusted partner for human tissue research
At REPROCELL (Biopta) we have over 16 years' experience of delivery to Pharma and Biotech companies. Since our establishment in 2002, we have conducted over 750 research projects for 130 clients. Via our global network of biorepositories, we can access healthy and diseased intestinal tissue from various surgical interventions. Every tissue is ethically obtained and collected to our strict specifications, governed by the British and American Human Tissue regulations.