With respect to drug absorption, transport and metabolism, Ussing chambers are recognized as the gold standard in vitro method. By allowing investigations in living tissues, our ADME/DMPK assays models can accurately predict drug behavior in humans.
Oral bioavailability is dependent not only on liver metabolism but also, critically, on absorption through the gastrointestinal tract, where passive and active absorption and metabolism via brush-border enzymes are key. Alternative in vitro methods, such as Caco-2 cells or intestinal microsomes, are useful for either permeability or metabolism experiments, but not for both. This is because they don't express the correct levels of transporters or enzymes; only human fresh tissues reflect the true biology.
Moreover, as many animal species used in preclinical species differ significantly in their patterns of gastrointestinal permeability or metabolism, using human fresh gastrointestinal tissue avoids species differences when predicting oral bioavailability.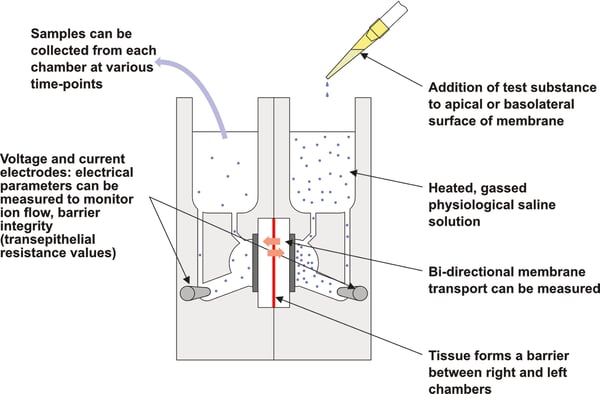 Diagram showing the typical setup of an ADME/DMPK experiment in our Ussing Chamber model
---
Gastrointestinal permeability
Our permeability studies use human gastrointestinal (GI) tissues which have a phenotypically accurate balance of drug-metabolizing enzymes and transporters. A typical experiment involves the application of a drug to the apical surface of the tissue, followed by periodic sampling of the Ussing chambers to measure the passage of drugs and any metabolites.
---
Gastrointestinal metabolism
In addition to our permeability model, we can also estimate gastrointestinal metabolism in our Ussing chamber system. By choosing to predict drug metabolism in living human tissues you can negate the metabolic and species differences presented by Caco-2 and animal models.
Gastrointestinal metabolism in human fresh tissues
This assay uses gastrointestinal biopsies to investigate the effects of your test article on Phase1 and Phase 2 metabolic enzymes.

---
Ion channel function
If you are interested in investigating ion channel function, our Ussing chamber system can be used to detect changes in channel activity or exchange mechanisms. By measuring short circuit current (Isc, µAmps), we can predict the effect of your test articles on ion channel function in gastrointestinal tissues, where ion channels play a large role in regulating fluid secretion.
---
Have questions about our ADME DMPK studies? Fill in the form below to contact our human tissue experts.