Enhance your research with high quality analysis of key biomarkers
Our multiplex immunoassay capabilities offer high-throughput, sensitive analysis of a wide range of biomarkers. With a range of detection instruments across our global facilities and extensive experience in designing custom assays our immunoassay services will complement your research in a cost-effective and time-efficient manner, providing robust and high quality data sets.
---
Pre-clinical applications
For over 20 years, REPROCELL has been aiding the top pharmaceutical companies with their pre-clinical drug development programmes. To complement our ex vivo drug discovery services, we provide a variety of immunoassay services to assess drug efficacy across sample types and patient populations. See below for examples of our inflammatory disease assay capabilities.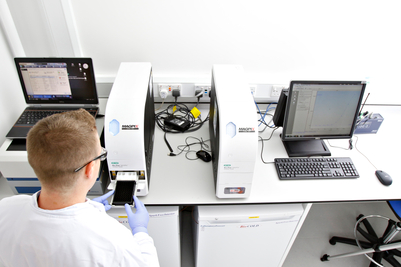 Clinical applications
Biomarker analysis has become a key element of many clinical trials. At REPROCELL, we offer our immunoassay services in line with our GLP/GCLP standards to support your clinical trial needs. Our multiplex platforms, detailed below, support the analysis of a range of analytes in both serum and plasma, in addition to culture samples.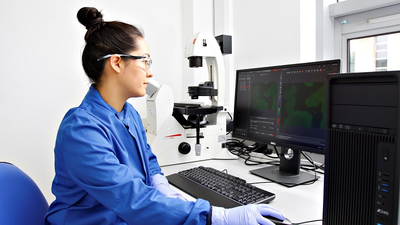 ---
Immunoassays tailored to your research needs
We operate a range of instruments that are compatible with commercially available biomarker assay kits. and reagents. This allows assays to be developed to suit a wide range of therapeutic targets and sample types. Our platforms include:
Luminex 200 System
The gold standard for multiplexing, this flow-based system utilises xMAP technology to deliver an analytical capacity of up to 100 analytes per well
MAGPIX System
Based on Luminex xMAP technology, this instrument offers multiplexing of up to 50 analytes in a single reaction volume
FLUOstar Optima
This

filter-based plate reader offers four reading modes for assay application: absorbance, fluorescent intensity, Time-Resolved Fluorescence (TRF) and luminescence
Our inflammatory disease assays
Our scientists have a wealth of expertise in the study of pro-inflammatory biomarkers, from identification of therapeutic targets to assessment of disease severity and drug efficacy. Read below to see how our immunoassay capabilities can enhance your inflammatory disease research.

Inflammatory Bowel Disease (IBD)
We have extensive experience in performing immunoassays on samples derived from patients with Crohn's disease and ulcerative colitis. Evaluating the inflammatory pathways behind these conditions across various tissue types, disease stages and patient populations can provide insight to therapeutic targets and efficacy.

Inflammatory lung diseases
The inflammatory profiles of lung conditions such as chronic obstructive pulmonary disease (COPD) and asthma are not as extensively characterised as those of other disease systems. Our experience in assessing the inflammatory mediators that contribute to these diseases could add another dimension to your research.

Inflammatory skin diseases
Assaying cytokines, chemokines and growth factors released from the tissue, or in the blood, of patients with inflammatory skin diseases can help to assess disease severity in relation to inflammatory mechanisms. For example, the Th2 pathway implicated in atopic dermatitis, and the Th17 pathway in psoriasis.
---
Frequently asked questions about our immunoassay services
How does a typical immunoassay work?
The Luminex 200 and MAGPIX systems operate using xMAP technology, which is based on beads or microspheres that are specifically dye-labelled to the target analyte(s). Samples are incubated with the relevant beads, and the detection instrument excites the internal dye, which distinguishes each bead set/analyte, via LED (MAGPIX) or laser (Luminex 200). Then, a fluorescent reporter dye (also specific to each analyte) is excited to provide a read-out that is used to determine the result of the assay.
How many samples can I test on one plate?
On a standard 96-well plate run in the Luminex 200 System, up to 36 patient samples can be run on one plate, alongside the necessary standards and controls.
Can I create a single custom assay with any analyte combination? What is the maximum number of analytes that can be combined?
The Luminex 200 System has the capacity to multiplex up to 100 analytes per sample, although there are limits to which analytes can be plexed based on tissue/disease characteristics and patient variability – our scientists will work with you to design an assay that fulfils your analytical needs in the most cost-effective and time-efficient manner.
Do I have to use the full plate at one time?
It is not necessary to use the entire plate – as few or as many samples/analytes as are required for your research can be assayed.