StemFit™ bFGF Human Recombinant Protein (GMP Compliant)
AS-bFGF
Brand: StemFit
bFGF is mainly used for stem cell cultivation in order to expand pluripotent stem cells or mesenchymal stem cells.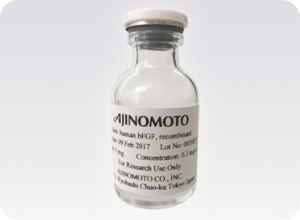 USA Store
Product name
Product code
Pack size
Price (USD)
Price (GBP)
Price (EUR)
StemFit™ bFGF Human Recombinant Protein (GMP Compliant)
AS-bFGF
1 mg
$ 750.00
£ 614.75
€ 718.03
Inquire about this product
Note: prices shown do not include shipping and handling charges.
---
StemFit brand name is the property of Ajinomoto Corp., Japan.
---
More StemFit products
A range of StemFit products are available from REPROCELL: