Predictive Drug Discovery Services
Drug Discovery Phases
---
Clinical trials for Investigational New Drugs (IND) are perhaps the biggest cost associated with drug development. And yet, up to 90% of all INDs fail at some phase in clinical trials. This is mainly attributable to the fact that most IND research and development is done in animal models and cell culture. The translation of efficacy, clinical safety and toxicology data to humans is not assured.
The REPROCELL Group has ready access to live human tissues through our extensive clinical networks, in addition to human iPSC-derived 3D cell model systems to create custom assays that can provide predictive human data to de-risk your drug discovery programs. No other company has this unique combination of expertise and capabilities.

We help our clients manage risk and save money
Demonstrating human efficacy and safety at an early stage of development has an enormous commercial value to our clients' research programs. For 10-20% of the drugs we have tested, the client decided to rethink their clinical strategy which seemed likely to fail based on the human tissue data. We estimate that this has resulted in net savings of more than $55 billion in total costs for our clients.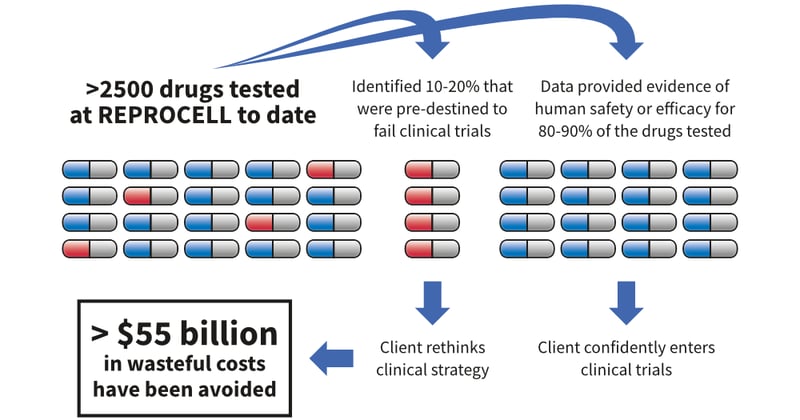 How can I obtain human data on my drug compounds?
Contact our experts using the form below, to discuss a protocol designed specifically for your needs
We will send you a fully-costed proposal and timeline
Send the test compound (drug, cosmetic or chemical) to REPROCELL
REPROCELL will provide you with raw data and a written report
Tissues and test compounds can be returned to you for further testing