REPROCELL's Growth Strategy and National Policy
---
The synergy of the REPROCELL group will accelerate the iPS cell business.
The REPROCELL group strives to rapidly expand the iPS cell business by pursuing the synergy of its technological and business operations.
Mid- and Long-Term
From drug discovery to regenerative medicine, a broad contribution to medicine by iPS cell business
iPS cells can transform into any other cell and multiply easily. These properties give them wide utility in the world of medicine. Their applications only begin with the development of new drugs – other amazing possibilities of iPS cells include tailor-made treatments for individual patients and donor-free regenerative medicine. They have already created huge advances in innovation in medical biotechnology, and corresponding developments in business.
iPS Cells — Broadening the Possibilities of the Cell Business
The induced pluripotent stem cell (iPS cell) forms the central core of our company's business. A pluripotent cell that can transform into any other type of cell, its commercialization has advanced since its discovery in 2006. The iPS cell's uses include the screening process used in drug discovery (evaluating medicinal and toxic properties). Expectations are high for future possibilities, including its application to regenerative medicine.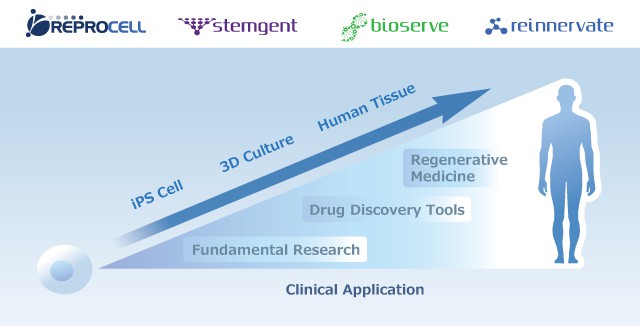 iPS cells and regenerative medicine enterprises are activating the marketplace worldwide
Around the world, iPS cell research is advancing, new technologies are broadening their utility, and associated needs are expanding greatly within the field of medical biotechnology. REPROCELL is expanding its business by responding to the market's demands with high-quality human iPS cell-based products including cardiac muscle cells, nerve cells, and liver cells.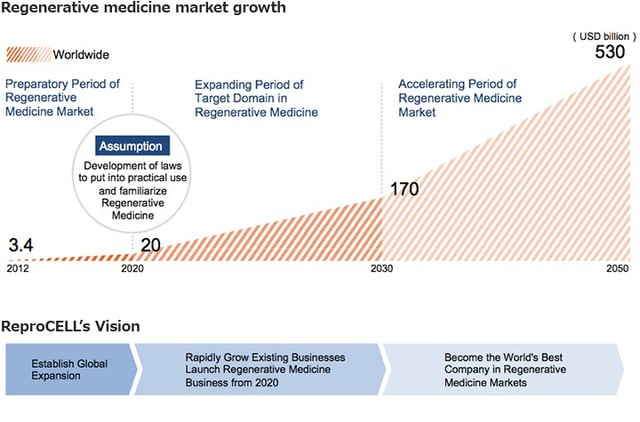 New Business Development
Pioneering new businesses through linkage with seed technologies
We have established a venture fund called Cell Innovation Partners, L.P., in partnership with the Shinsei Bank Group, which is intended to acquire promising seed technologies as they spring up around the world. Its investment targets are ventures related to pluripotent cells in general, and iPS cells in particular, or to regenerative medicine, and it will proactively invest around the world.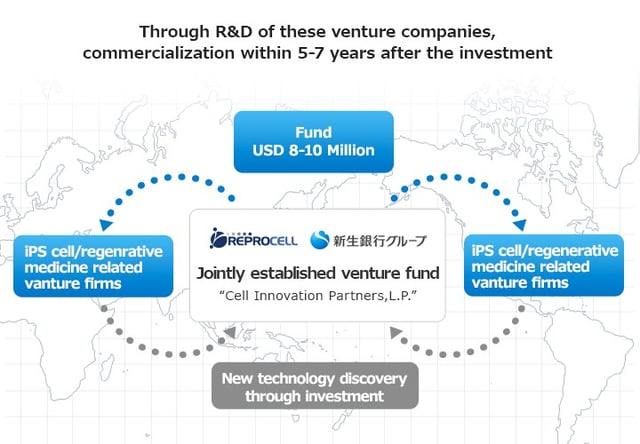 Biotechnologies are springing up one after another.
We will invest in cutting-edge technology, and acquire the seeds of effective and efficient new technologies.
Public Assistance and Development of Laws
As a growth industry, we have the country at our backs
The administration has indicated its objective to distribute 110 billion yen in research support over 10 years to medical research into iPS cells as part of its growth plan. It has also demonstrated a supportive posture with the establishment of a "Japanese NIH" based on the U.S.A.'s National Institutes of Health and revision of the Pharmaceutical Affairs law to reduce the inspection period before approval of medical equipment.
1. A Special Zone for iPS Cell Research and Development
REPROCELL's base of operations in Yokohama City, Kanagawa Prefecture, has been designated as part of the Life Innovation in Keihin Coastal Areas Comprehensive Special Zones for International Competitiveness Development. The goal of the special zone is to allow global businesses to take the lead in stimulating the medicine and medical equipment production industries, increasing international competitiveness and allowing related industries and small to medium enterprises to prosper by a spillover effect.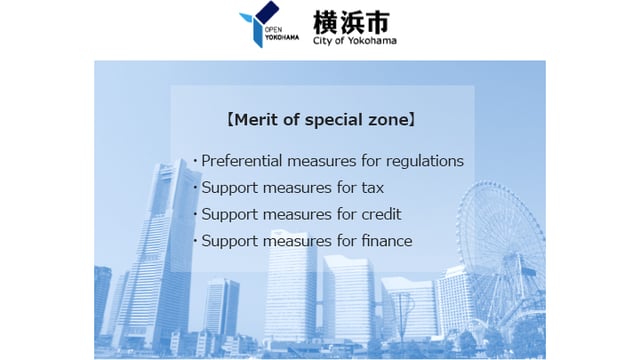 2. Legislation supports businesses working on regenerative medicine
Enforcement of Regenerative Medicine Law and the Revised Pharmaceutical Affairs Law
Two laws came into effect on November 25, 2014:
The "Law on Guaranteeing Safety in Regenerative Medicine" or "Regenerative Medicine Law"
The "Law on Guaranteeing Safety, Efficacy, and Quality in Medical Supplies and Equipment," also called the "Medical Supplies and Equipment Law"
Along with clarifying the standards and processes of regenerative medicine by Regenerative Medicine Law, the Medical Supplies and Equipment Law accelerated the approval process for regenerative medicine products.