Neuro Culture Medium
RCDN101
Brand: StemRNA
Medium for broad cell type maturation of StemRNA Neuro (product # RCDN001), StemRNA Neuro AD-Mutation (RCDN002N), StemRNA Neuro AD-Patient (RCDN003P) before use of the cells in assays.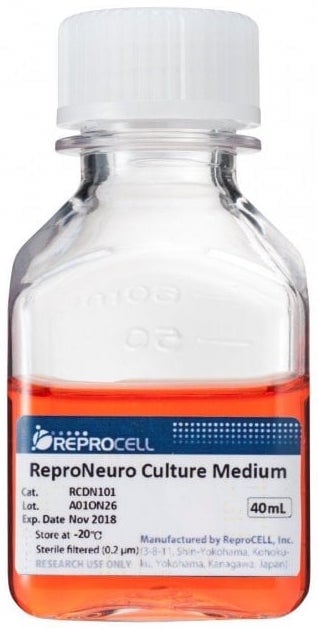 USA Store
Product name
Product code
Pack size
Price (USD)
Price (GBP)
Price (EUR)
Neuro Culture Medium
RCDN101
40 mL
$ 433.00
£ 354.92
€ 414.54
Inquire about this product
Note: prices shown do not include shipping and handling charges.
Product Information
$refs.firstTab.focus())">
Neuro Culture Medium is recommended for plating and maturation of StemRNA Neuro Human iPS cell-derived Neurons (Cat. No. RCDN001N). The medium is formulated to support the culture of human neurons for prolonged periods, promoting morphological and functional integrity and maturation. After about 2 weeks culture in Neuro Culture Medium, StemRNA Neuro cells express biomarkers characteristic of a mixed neuronal brain cell population. The medium is suitable for structural and physiological observations, maintaining heath and viability for 6-8 weeks or longer.
For study of neurons using multi-electrode array (MEA) systems, it is recommended to plate and culture StemRNA Neuro cells in Neuro MQ medium (RCDN102).
---

Stemgent and the StemRNA brand name are trademarks of REPROCELL Inc., Japan.
$refs.secondTab.focus())">
Product Name: Neuro Culture Medium
Catalog Number: RCDN101
Size: 40mL
Storage and Stability: Store at −20°C
$refs.thirdTab.focus())">
Data Sheet:
Safety Data Sheets: