DNA and RNA Extraction Services
At REPROCELL, we have more than two decades of experience in extracting DNA and RNA from a wide variety of starting materials. We have a large capacity to isolate different nucleic acids from a range of biospecimens, including blood, solid tissues, swabs, and formalin-fixed paraffin-embedded blocks.
DNA Extraction
REPROCELL has over two decades of experience with genomic DNA isolation from nearly all biomaterials including:
Whole blood, blood clots, buffy coats, PMBCs, serum
Nuclear pellets
Saliva, mouthwash, buccal swabs, cytobrushes
Plant material
Cultured cells
Fresh and frozen tissues
Paraffin-embedded tissues
REPROCELL utilizes different types of reagents based on the type of biomaterials. The most common of which are our DNAQuik™ reagents developed by REPROCELL.
DNAQuik reagents are non-organic and yield good quality, high molecular weight genomic DNA. REPROCELL has utilized DNAQuik reagents for DNA extraction from a variety of tissues. REPROCELL also utilizes organic reagents to obtain high quality DNA from buccal swabs and cytobrushes.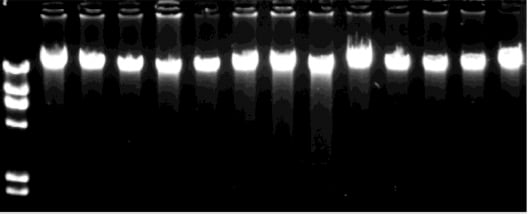 Agarose Gel Analysis
Genomic DNA is quantitated by measuring optical density at A260 nm and A280 nm wavelengths. Samples that traditionally yield small quantity of DNA or have bacterial DNA are quantitated using Real-Time PCR using a probe specific for human DNA. REPROCELL also has capabilities to provide Picogreen quantitation.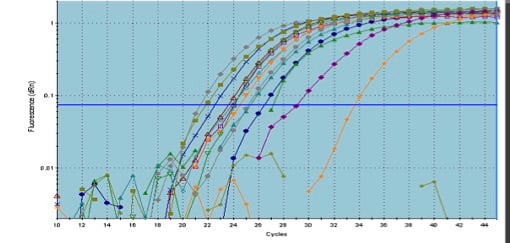 TaqMan Analysis
Quality of DNA is determined by electrophoresing a small quantity of DNA (25 ng to 200 ng) on 1% agarose gel. REPROCELL typically performs quality check on 10% of the samples. In case of mouthwash, buccal swabs, cytobrushes, and paraffin embedded tissues, quantitation by Real-Time PCR also serves as a quality check. The quality of some DNA samples isolated at REPROCELL has been assayed after 15 years, and determined to be of high quality after storage in −70°C.
Genomic DNA isolated at REPROCELL has been utilized in several molecular biology and genomics applications. These include SNP analysis by MassARRAY (Sequenom), Masscode (Qiagenomics), Beadchip Array (Illumina), GeneChip Array (Affymetrix) and TaqMan (ABI).
Please make an inquiry on the form below for specific details and protocols, as well as QC/QA assays.
---
RNA Extraction
REPROCELL has 20 years experience with RNA isolation from a variety of starting material. We have been successful in RNA extraction from whole blood, buffy coats, PAXgene tubes, lymphocytes, cultured cells, plant material, cartilage, fresh and frozen tissues and various bacteria.
REPROCELL utilizes reagents from Qiagen and/or RNAQuikTM reagents depending on the type of tissue. REPROCELL has developed protocols for RNA purification from tissues such as cartilage.
REPROCELL will provide A260/A280 ratio and concentration for RNAs isolated. The quality of RNA isolated is determined using Agilent's Bioanalyzer. RNA isolated at REPROCELL has been used in various molecular biology and genomics applications. These applications include expression analysis using RT-PCR, micro array analysis using Affymetrix GeneChip system and library construction.
To obtain high quality of RNA, REPROCELL recommends that the samples should be immediately cryo-preserved upon collection and properly shipped to REPROCELL. Sample sets received for RNA extraction are logged in, entered into a database, and stored at −70°C until processing. After RNA extraction is completed, samples are frozen at −70°C, packaged with a data sheet and Bioanalyzer data, and shipped to the customer.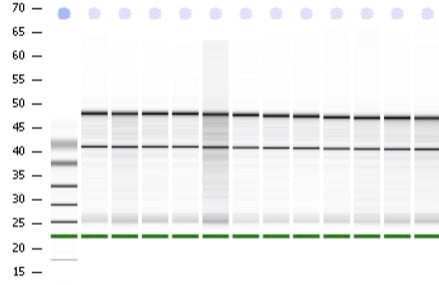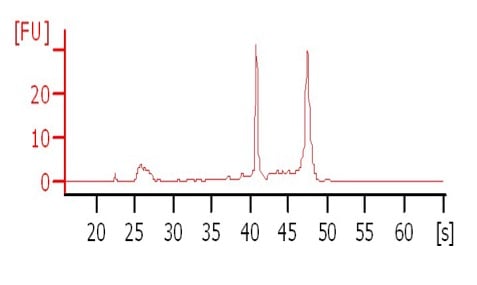 Images above: Bioanalyzer Analysis
Questions about price? Shipping? Turnaround time? Please make an inquiry. Our team will walk you through the whole process.
Make an inquiry