Stemchymal is an allogeneic stem cell therapy, meaning it uses stem cells obtained from one patient to treat another. The mesenchymal stem cells (MSCs) used to create Stemchymal are isolated from the adipose, or fatty, tissue of healthy individuals. Once isolated from this primary tissue using a unique cell processing system, the MSCs are administered to recipients by intravenous (IV) infusion.
As MSCs display low immunogenicity, they are less likely to cause an immune reaction in patients receiving treatment. These cells have also displayed therapeutic effects in vivo, with infusion shown to partially restore motor function in SCA mouse models.
---
What is Spinocerebellar Ataxia?
Stemchymal was developed to treat spinocerebellar ataxia (SCA), a group of rare neurological diseases that have a significant impact on quality of life. The SCAs are caused by the degeneration of neurons in the central nervous system which leads to progressive in-coordination of gait and dysphagia. SCA occurs between the ages of 20 and 60 years old, and more than 30 disease subtypes have been identified so far. It is thought that there are over 30,000 patients living with SCA in Japan alone.
Unfortunately, there is presently no cure for SCA, and standard-of-care treatments have limited success. Stemchymal is the first regenerative therapeutic which has the potential to inhibit the progression of SCA and is currently being trailed in patients with SCA3 and SCA6.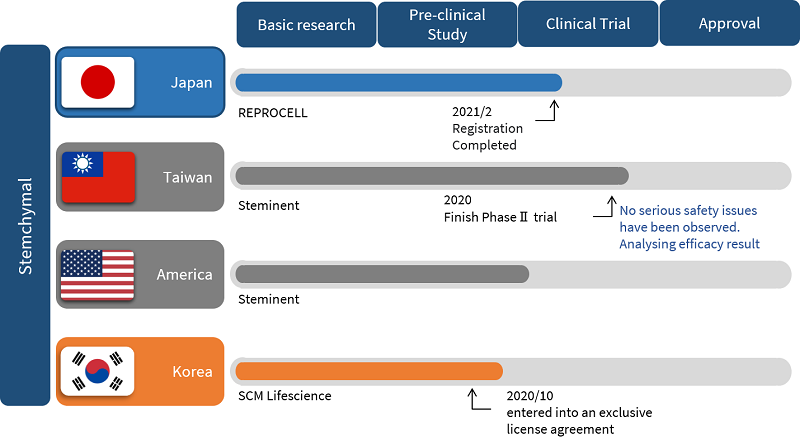 ---
Clinical trials of Stemchymal
Four countries are involved in the clinical trial of Stemchymal globally. REPROCELL is responsible for clinical trials in Japan, while Steminent is completing trials in Taiwan and the USA. The most recent stage of drug development, a double-blind phase II trial in more SCA patients with placebo, was completed in Taiwan last year. SCM LifeSciences have now agreed to the clinical development of Stemchymal in Korea as of 2020.
Stemchymal is progressing to Phase II Trials in Japan
In June 2018, a clinical trial notification (IND) for patients with SCA type 3 (SCA3) and type 6 (SCA6) was submitted to the regulatory body PMDA in Japan. Once approved, a placebo-controlled, randomized, double-blind, parallel-group comparison study was initiated.
Currently, all patients have been registered at ten sites in Japan for the Phase II clinical trial of Stemchymal. As the treatment is classified as an orphan regenerative medicine product by the Japanese Ministry of Health, Labor, and Welfare, this Phase II trial will receive support from the government. You can read more about the current Phase II clinical trials of Stemchymal in this press release.
Clinical progress of Stemchymal in other countries
Steminent is driving clinical development of Stemchymal in Taiwan. In 2012, a phase I/II clinical trial was conducted in the country to determine the safety and the efficacy of a single dose of Stemchymal in SCA patients*. A further trial was then initiated to confirm the safety and efficacy of a triple dose.
So far, these studies have suggested that Stemchymal is safe for IV administration and can even suppress the progression of clinical symptoms. In one study, 66% of patients displayed improved symptoms up to 24 weeks after a single dose of Stemchymal. However, it is important to note that efficacy data from these studies is still being analyzed.
In the USA, Steminent has received the approval of Phase II clinical trial notification (IND) by the FDA. The company has also recently entered an exclusive license agreement with SCM LifeSciences for the clinical development and commercialization of Stemchymal in Korea.
If you want to stay up-to-date with the latest Stemchymal developments, you can subscribe to our clinical news updates, or follow us on LinkedIn.
---
Further reading on Stemchymal
REPROCELL completes patient registration for phase II clinical trial of regenerative therapeutic Stemchymal®. REPROCELL News (2021)
Puckrin. How is Stemchymal® performing in Clinical Trials? [INFOGRPHIC] REPROCELL Blog (2020)
Phase II clinical trial of regenerative medicine product Stemchymal® - Recruitment of first patient. REPROCELL News (2020)
Moffitt. Stem cells offer hope for sufferers of Spinocerebellar Ataxia. REPROCELL Blog (2019)
Steminent Announces Japan partner REPROCELL has PMDA Approval of CTN for Phase II Trial of Stemchymal® SCA in the Treatment of Spinocerebellar Ataxia in Japan. REPROCELL News (2018)
Tsia et al. Treatment of Spinocerebellar Ataxia with Mesenchymal Stem Cells: A Phase I/IIa Clinical Study. Cell Transplantation. 26:3 (2017)
Announcement on the initiation of a new business from the collaboration and commercialization agreement with Steminent Biotherapeutics Inc. for cell therapy. REPROCELL News (2016)
---
*Efficacy was assessed by SARA (Scale for the Assessment and Rating of Ataxia) score for 12 months after a single dose of Stemchymal