iMatrix-511 Stem Cell Culture Substrate
NP892-011 / NP892-012
Brand: iMatrix
iMatrix-511 is a xeno-free, recombinant Laminin-511 E8 Fragment produced in CHO-S cells and used with the StemRNA-3rd Gen Reprogramming Kit (00-0076) to generate iPS cells from fibroblasts, blood or urine.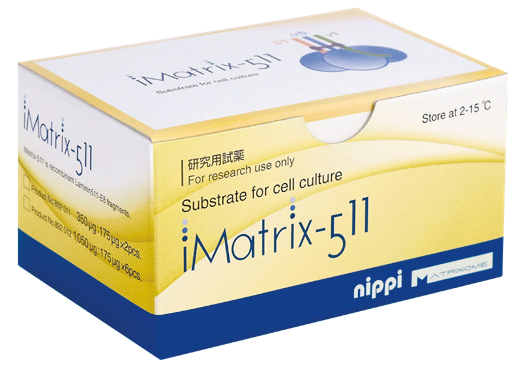 | Product name | Product code | Pack size | Price (USD) | Price (GBP) | Price (EUR) |
| --- | --- | --- | --- | --- | --- |
| iMatrix-511 Stem Cell Culture Substrate (175 μg × 2 tubes) | NP892-011 | 175 μg × 2 tubes | $ 344.00 | £ 388.94 | € 395.88 |
| iMatrix-511 Stem Cell Culture Substrate (175 μg × 6 tubes) | NP892-012 | 175 μg × 6 tubes | $ 903.00 | £ 890.77 | € 1,040.42 |
Inquire about this product
Note: prices shown do not include shipping and handling charges.
Product Information
$refs.firstTab.focus())">
iMatrix-511 is a highly purified and refined laminin-511 E8 fragments, produced in CHO cells.
iMatrix-511 features make it an ideal matrix for pluripotent stem cell culture:
Promotes greater stem cell adhesion than all other matrix proteins that have been tested
Easy to use (liquid format)
E8 fragments retain integrin binding specificity and capacity and display higher potency than natural Laminin-511
Equivalent performance, but lower cost than the legacy iMatrix-511 product
Laminin is localized to the basement membrane and plays a key role in cell adhesion and proliferation. Laminin-511 (α5, β1 laminin) binds to integrin α6β1 to promote cell signaling. Laminin-511 provides an ideal matrix for the proliferation of a wide variety of cell types including stem and iPS cells.
iMatrix-511 is functionally equivalent to iMatrix-511 SILK (Cat. No. NP892-021). The only difference is the expression system used for bioproduction. The iMatrix-511 SILK product is produced in recombinant silkworm cocoon, while iMatrix-511 is produced in CHO-S cells. Both are E8 fragments that have been purified using the same processes.
---
Matrixome company name and logo and iMatrix brand name are the property of Matrixome Corp., Japan.
$refs.secondTab.focus())">
Specifications
Product Name: iMatrix-511 Stem Cell Culture Substrate
Catalog Numbers:
Sizes:
NP891-011: 2 × 175 µg
NP891-012: 6 × 175 µg
Molecular Weight: 150 kDa
Purity: > 95 % pure
Formulation: Purified Laminin-511 E8 proteolytic fragment
Storage and Stability: Store at 4 °C and protect from light exposure. Stable for 2 years from manufacturing date.
Concentration: 500 µg/mL
Source: CHO cells
Quality Control: Integrin binding Kd < 10 nM
Sterility: Sterile
Notice To Purchaser: REPROCELL is a licensed distributor of Matrixome cell culture substrates to the global market.
Recommended Usage: iMatrix-511 is suitable for use as a substrate for culture of various cell types, including ES/iPS cells.
Manufacturer: Matrixome Corporation (Japan)
$refs.thirdTab.focus())">
Safety Data Sheet:
Specifications Sheets:
Product Flyers:
Protocols:
$refs.fourthTab.focus())">
Takayama K.

et al., "Laminin 411 and 511 promote the cholangiocyte differentiation of human induced pluripotent stem cells".

Biochemical and Biophysical Research Commun.474 (1): 91-96 (2016).
Nishimura K.

et al.,

"Estradial facilitates functional integration of iPSC-derived dopaminergic neurons into striatal neuronal circuits via activation of integrin a5b1".

Stem Cell Reports6 (4): 511-524 (2016).
Matsuno K.

et al.,

"Redefining definitive endoderm subtypes by robust induction of human induced pluripotent stem cells".

Differentiation2016.04.002.
Hayashi R.

et al., "Co-ordinated ocular development from human iPS cells and recovery of corneal function".

Nature531, 368-80 (2016),
Sasaki K.

et al.,

"Robust

in vitro induction of human germ cell fate from pluripotent stem cells".

Cell Stem Cell 17 (2):178-194 (2015).
Okumura N.

et al.,

"Laminin-511 and -521 enable efficient

in vitro

expansion of human corneal endothelial cells".

Invest Ophthalmal Vis Sci.56 (5), 2933-42 (2015).
Nakagawa M.

et al., "A novel efficient feeder-free culture system for the derivation of human induced pluripotent stem cells".

Scientific Reports 4: 3594 (2014).
Miyazaki T.

et al.

"Laminin E8 fragments support efficient adhesion and expansion of dissociated human pluripotent stem cells." Nature Communications 3: 1236 (2012).
Taniguchi Y.

et al., "The C-terminal region of laminin β-chains modulates the integrin-binding affinities of laminins." J. Biol. Chem.284 (12): 7820-31 (2009).
Ido H.

et al.,

"The requirement of the glutamic acid residue at the third position from the carboxyl termini of the laminin gamma-chains in integrin-binding by laminins."

J. Biol. Chem.282 (15): 11144-54 (2017).
Additional Publications