Stemolecule™ KAAD-Cyclopamine
04-0028
Brand: Stemgent™
KAAD-cyclopamine is a sonic hedgehog antagonist that targets Smoothened, a 7-transmembrane receptor of the hedgehog signaling pathway.
---
Note: prices shown do not include shipping and handling charges.
Product code
Pack size
The Americas
UK, Europe, Middle East, Africa
(USD)
UK (GBP)
Europe (EUR)

04-0028

20 μg

$ 276.00

£ 226.23

€ 264.24

USA store
The Americas
Product code
Pack size
USD

04-0028

20 μg

$ 276.00

USA store
UK, Europe, Middle East, Africa
Product code
Pack size
UK (GBP)

04-0028

20 μg

£ 226.23

Europe (EUR)

04-0028

20 μg

€ 264.24
---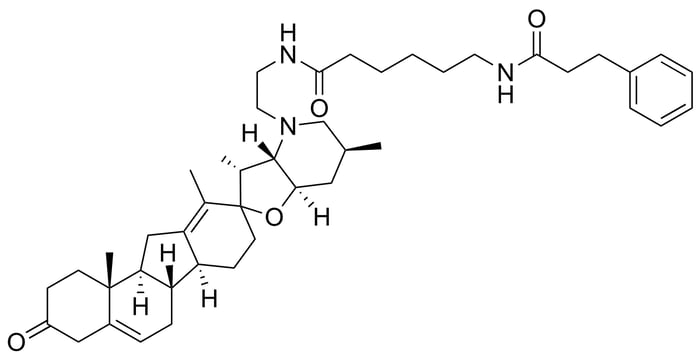 Stemolecule KAAD-Cyclopamine is a sonic hedgehog antagonist known to target Smoothened1. Hedgehog signaling is involved in embryogenesis as well as cancer progression2. KAAD-Cyclopamine has been utilized to halt the migration or proliferation of a variety of cancer cells (e.g., esophageal, gastrointestinal, hepatic and pancreatic cancer)3-6.
Product Name: Stemolecule KAAD-Cyclopamine
Catalog Number: 04-0028
Size: 100 µg
Alternate Name(s): N-[2-[(3'R,7'aR)-3',6',10,11b-tetramethyl-3-oxospiro[1,2,4,6,6a,6b,7,8, 11,11a-decahydrobenzo[a]fluorene-9,2'-3,3a,5,6,7,7a-hexahydrofuro[3, 2-b]pyridine]-4'-yl]ethyl]-6-(3-phenylpropanoylamino)hexanamide
Chemical Formula: C44H63N3O4
Molecular Weight: 697.99
CAS Number: 306387-90-6
Purity: Greater than 95% by TLC analysis
Formulation: Pale yellow solid
Solubility: For a 10 mM concentrated stock solution of KAAD-Cyclopamine, reconstitute the compound by adding 14.3 µL of DMSO to the entire contents of the vial. If precipitate is observed, warm the solution to 37 °C for 2 to 5 minutes. For cell culture, the media should be prewarmed prior to adding the reconstituted compound. Note: for most cells, the maximum tolerance to DMSO is less than 0.5%. This molecule is soluble in DMSO at 10 mM, ethanol at 1.4 mM, and methanol at 1.4 mM.
Storage and Stability: Store powder at 4 °C protected from light. Information about the stability of Stemolecules in solution is largely not available. As a general guideline, we recommend that stock solution be freshly made and stored in aliquots at −20 °C, protected from light. The effect of storage of stock solutions should be verified for each application.
Quality Control: The purity of KAAD-Cyclopamine was determined by TLC analysis. The accurate mass was determined by mass spectrometry. Cellular toxicity of KAAD-Cyclopamine was tested on mouse embryonic stem cells.
Documents
Specification Sheets:
Safety Data Sheets:
References
Additional Publicatons