Stemolecule™ Forskolin
04-0025
Brand: Stemgent™
Forskolin is a natural product adenylate cyclase activator that increases cyclic AMP levels.
---
Note: prices shown do not include shipping and handling charges.
Product code
Pack size
The Americas
UK, Europe, Middle East, Africa
(USD)
UK (GBP)
Europe (EUR)

04-0025

10 mg

$ 169.00

£ 138.52

€ 161.80

USA store
The Americas
Product code
Pack size
USD

04-0025

10 mg

$ 169.00

USA store
UK, Europe, Middle East, Africa
Product code
Pack size
UK (GBP)

04-0025

10 mg

£ 138.52

Europe (EUR)

04-0025

10 mg

€ 161.80
---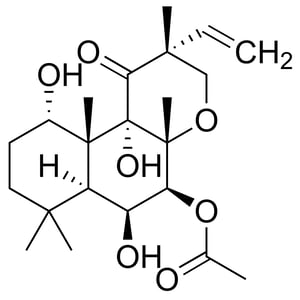 Stemolecule Forskolin is a natural compound produced by the Indian Coleus plant (Coleus forskohlii)1. It is used in several differentiation protocols for its ability to potentiate neuron differentiation2,3. Forskolin is able to stimulate adenylate cyclase activity and increases cyclic AMP4. Cyclic AMP is a signaling molecule and key regulator of critical enzymes in cellular processes5. For example, cAMP can bind to protein kinase A (PKA) regulatory subunit and activate PKA which acts as a negative regulator of the hedgehog signaling pathway6.
Specifications
Product Name: Stemolecule Forskolin
Catalog Number: 04-0025
Size: 10 mg
Alternate Name(s): [(3R,4aR,5S,6S,6aS,10S,10aR,10bS)-3-ethenyl-6,10,10b-trihydroxy-3,4a,7,7,10a-pentamethyl-1-oxo-5,6,6a,8,9,10-hexahydro-2H-benzo[f]chromen-5-yl]acetate
Chemical Formula: C22H34O7
Molecular Weight: 410.50
CAS Number: 66428-89-5
Purity: Greater than 97% by HPLC analysis
Formulation: White crystalline powder
Solubility: For a 10 mM concentrated stock solution of Forskolin, reconstitute the compound by adding 2.44 mL of DMSO to the entire contents of the vial. If precipitate is observed, warm the solution to 37 °C for 2 to 5 minutes. For cell culture, the media should be prewarmed prior to adding the reconstituted compound. Note: for most cells, the maximum tolerance to DMSO is less than 0.5%. This molecule is soluble in DMSO at 100 mM.
Storage and Stability: Store powder at 4 °C protected from light. Information about the stability of Stemolecules in solution is largely not available. As a general guideline, we recommend that stock solution be freshly made and stored in aliquots at −20 °C, protected from light. The effect of storage of stock solutions should be verified for each application.
Quality Control: The purity of Forskolin was determined by HPLC analysis. The accurate mass was determined by mass spectrometry. Cellular toxicity of Forskolin was tested on mouse embryonic stem cells.
Documents
Specification Sheets:
Safety Data Sheets:
References
Additional Publications