Collagen Sponge for 35mm Culture Dish
KKN-CS-35
Brand: AteloCell
Lyophilized collagen sponge made from insoluble type I collagen derived from bovine Achilles tendon.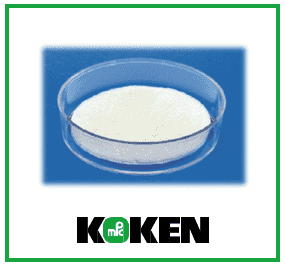 | Product name | Product code | Pack size | Price (USD) | Price (GBP) | Price (EUR) |
| --- | --- | --- | --- | --- | --- |
| Collagen Sponge for 35mm Culture Dish | KKN-CS-35 | 5 pieces | $ 342.00 | £ 337.40 | € 394.09 |
Inquire about this product
Note: prices shown do not include shipping and handling charges.
Product Information
$refs.firstTab.focus())">
The collagen sponge is a collagen-based device developed for three-dimensional cell culture. The collagen porous sponge is prepared from an insoluble type I collagen isolated from bovine Achilles tendon. This sponge is natural bovine collagen (not atelocollagen). Cells will penetrate the sponge and proliferate in three-dimensions.
The collagen sponge (KKN-CS-35) is a disc shape of 32 mm in diameter and 1 mm thick.
---
KOKEN company name and logo and AteloCell brand are the property of KOKEN Corp. Ltd., Japan.
$refs.secondTab.focus())">
Product Name: Collagen sponge (native) for 35mm culture dish
Catalog Number: KKN-CS-35
Size: 5 pieces
Storage and Stability: Store at Room Temperature
Sterility: Sterile
Notice To Purchaser: REPROCELL is a licensed global distributor of KOKEN's collagen-derived products everywhere, except for Japan.
Manufacturer: Koken Co., Ltd. (Japan)
$refs.thirdTab.focus())">
Specification Sheets:
$refs.fourthTab.focus())">
Lu H,

et al.

Comparison of decellularization techniques for preparation of extracellular matrix scaffolds derived from three-dimensional cell culture. (2012) J Biomed Mater Res A. 100(9):2507-2516.
Kobayashi Y,

et al.

Synthesis of functional artificial lymphoid tissues. (2011) Discov Med. 12(65):351-362.
Kitajima T,

et al.

A fusion protein of hepatocyte growth factor for immobilization to collagen. (2007) Biomaterials. 28(11):1989-1997.
Okamoto N,

et al.

Artificial lymph nodes induce potent secondary immune responses in naive and immunodeficient mice. (2007) J Clin Invest. 117(4):997-1007.
Ueno A,

et al.

Constitutive expression of thrombospondin 1 in MC3T3-E1 osteoblastic cells inhibits mineralization. (2006) J Cell Physiol. 209(2):322-332.
Suematsu S,

et al.

Generation of a synthetic lymphoid tissue-like organoid in mice. (2004) Nat Biotechnol. 22(12):1539-1545.
Yasui T,

et al.

Determination of collagen fiber orientation in human tissue by use of polarization measurement of molecular second-harmonic-generation light. (2004) Appl Opt. 43(14):2861-2867.
Yamanouchi K,

et al.

Bone formation by transplanted human osteoblasts cultured within collagen sponge with dexamethasone in vitro. (2001) J Bone Miner Res. 16(5):857-867.
Fujimoto E,

et al.

Beneficial effect of basic fibroblast growth factor on the repair of full-thickness defects in rabbit articular cartilage. (1999) Arch Orthop Trauma Surg. 119(3-4):139-145.