Atelocollagen Membrane for 24-Well Culture Plate
KKN-CM-24
Brand: AteloCell
This permeable Atelocollagen membrane for 24-well culture plate allows amino acids and other small molecules can move freely through the permeable collagen membrane.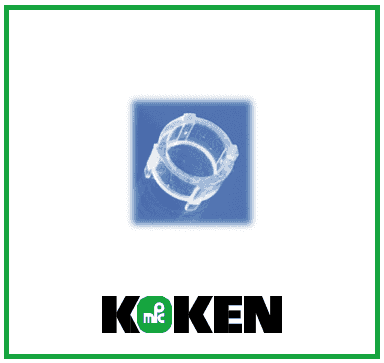 | Product name | Product code | Pack size | Price (USD) | Price (GBP) | Price (EUR) |
| --- | --- | --- | --- | --- | --- |
| Atelocollagen Membrane for 24-Well Culture Plate | KKN-CM-24 | 24 pieces | $ 718.00 | £ 708.87 | € 827.96 |
Inquire about this product
Note: prices shown do not include shipping and handling charges.
Product Information
$refs.firstTab.focus())">
A nearly transparent permeable membrane made from Type 1 Atellocolagen sized for 24-well culture plates. Amino acids and other small molecules can move freely through the permeable collagen membrane. Suitable for culture of primary epithelial cells and cell interaction studies.
Applications
Features
Microscopic observation of the cells is possible during the culture due to high membrane transparency.
Cell culture on collagen membrane creates a natural environment that resembles

in vivo

systems.
Data
Induction into layered tissue from mouse embryoid body on permeable collagen membrane and transplantation. (Y. Kinebuchi et al. Shinonoi General Hospital, Shinshu University, Faculty of Medicine)
Mouse embryoid body was cultivated on permeable collagen membrane in a mixed medium of keratinocyte serum-free medium and conditioned medium from 3T3 cells. These cells formed four-layered structures in vitro after 28 days culture (Fig. 1). Upon transplanting these four-layered structure, the formation of luminal walls and the expression of some epithelial cell marker, UPIII (urothelium), CK8, and CK18 (bladder) were observed in vivo (Fig. 2).

---
KOKEN company name and logo and AteloCell brand are the property of KOKEN Corp. Ltd., Japan.
$refs.secondTab.focus())">
Product Name: Atelocollagen membrane for 6 well culture plate
Catalog Number: KKN-CM-24
Size: 24 pieces
Storage and Stability: Store at −20°C
Sterility: Sterile
Notice To Purchaser: REPROCELL is a licensed global distributor of KOKEN's collagen-derived products everywhere, except for Japan.
Manufacturer: Koken Co., Ltd. (Japan)
$refs.thirdTab.focus())">
Specification Sheets:
$refs.fourthTab.focus())">
Lu H,

et al.

Comparison of decellularization techniques for preparation of extracellular matrix scaffolds derived from three-dimensional cell culture. (2012) J Biomed Mater Res A. 100(9):2507-2516.
Kobayashi Y,

et al.

Synthesis of functional artificial lymphoid tissues. (2011) Discov Med. 12(65):351-362.
Kitajima T,

et al.

A fusion protein of hepatocyte growth factor for immobilization to collagen. (2007) Biomaterials. 28(11):1989-1997.
Okamoto N,

et al.

Artificial lymph nodes induce potent secondary immune responses in naive and immunodeficient mice. (2007) J Clin Invest. 117(4):997-1007.
Ueno A,

et al.

Constitutive expression of thrombospondin 1 in MC3T3-E1 osteoblastic cells inhibits mineralization. (2006) J Cell Physiol. 209(2):322-332.
Suematsu S,

et al.

Generation of a synthetic lymphoid tissue-like organoid in mice. (2004) Nat Biotechnol. 22(12):1539-1545.
Yasui T,

et al.

Determination of collagen fiber orientation in human tissue by use of polarization measurement of molecular second-harmonic-generation light. (2004) Appl Opt. 43(14):2861-2867.
Yamanouchi K,

et al.

Bone formation by transplanted human osteoblasts cultured within collagen sponge with dexamethasone in vitro. (2001) J Bone Miner Res. 16(5):857-867.
Fujimoto E,

et al.

Beneficial effect of basic fibroblast growth factor on the repair of full-thickness defects in rabbit articular cartilage. (1999) Arch Orthop Trauma Surg. 119(3-4):139-145.
Matsumoto A,

et al.

Induction of enamel matrix protein expression in an ameloblast cell line co-cultured with a mesenchymal cell line in vitro. (2011) In Vitro Cell Dev Biol Anim. 47(1):39-44.
Nakamura M.

et al.

Promotion of angiogenesis by an artificial extracellular matrix protein containing the laminin-1-derived IKVAV sequence. (2009) Bioconjug Chem. 20(9):1759-1764.
Orisaka M.

et al.

Effects of ovarian theca cells on granulosa cell differentiation during gonadotropin-independent follicular growth in cattle. (2006) Mol Reprod Dev. 73(6):737-744.
Suzuki T.

et al.

Puromycin aminonucleoside induces apoptosis and increases HNE in cultured glomerular epithelial cells. (2001) Free Radic Biol Med. 31(5):615-623.
Ishikawa H.

et al.

Psoriatic fibroblasts enhance cornified envelope formation in normal keratinocytes in vitro. (1997) Arch Dermatol Res, 289(9):551-553.
Miyauchi Y.

et al.

Feasibility of in vitro culturing of lesional psoriatic keratinocytes in medium containing high calcium concentrations. (1995) Arch Dermatol Res. 287(8):731-734.
Hatou S,

et al.

Functional Corneal Endothelium Derived from Corneal Stroma Stem Cells of Neural Crest Origin by Retinoic Acid and Wnt/β-Catenin Signaling. (2013) Stem Cells Dev. 22(5):828-839.
Kimoto M,

et al.

Role of hepatocyte growth factor in promoting the growth of human corneal endothelial cells stimulated by L-ascorbic Acid 2-phosphate. (2012) Invest Ophthalmol Vis Sci. 53(12):7583-7589.
Kaji H.

et al.

Electrically induced contraction of C2C12 myotubes cultured on a porous membrane-based substrate with muscle tissue-like stiffness. (2010) Biomaterials. 31(27):6981-6986.
Hida N.

et al.

Novel cardiac precursor-like cells from human menstrual blood-derived mesenchymal cells. (2008) Stem Cells. 26(7):1695-1704.
Kinebuchi Y.

et al.

Direct induction of layered tissues from mouse embryonic stem cells: potential for differentiation into urinary tract tissue. (2008) Cell Tissue Res. 331(3):605-615.
Oyasu M.

et al.

Immunogold electron microscopic demonstration of distinct submembranous localization of the activated gammaPKC depending on the stimulation. (2008) J Histochem Cytochem. 56(3):253-265.
Miyashita H.

et al.

Characterization of hair follicles induced in implanted, cultured rat keratinocyte sheets. (2004) Exp Dermatol. 13(8):491-498.
Youdim KA.

et al.

Interaction between flavonoids and the blood-brainbarrier in vitro studies. (2003) J Neurochem. 85(1):180-192.
Agu RU.

et al.

In-vitro nasal drug delivery studies: comparison of derivatised, fibrillar and polymerised collagen matrix-based human nasal primary culture 2 systems for nasal drug delivery studies. (2001) J Pharm Pharmacol. 53(11):1447-1456.
Selvaratnam L.

et al.

Permeability barrier properties of oral keratinocyte cultures: a model of intact human oral mucosa. (2001) Oral Dis. 7(4):252-258.
Kahn CR.

et al.

Human corneal epithelial primary cultures and cell lines with extended life span: in vitro model for ocular studies. (1993) Invest Ophthalmol Vis Sci. 34(12):3429-3441.