Dissociation solution for human ES/iPS cells
RCHETP002
Brand: REPROCELL
A gentle detachment solution for iPSC colonies giving much higher viability than trypsin-based dissociation. No scraping required for liberation of iPSC colonies. For both feeder-dependent and feeder-free culture.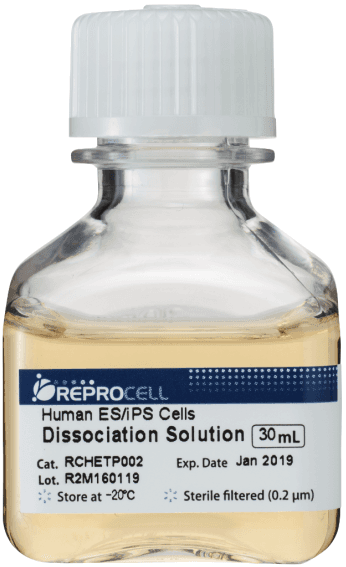 USA Store
Product name
Product code
Pack size
Price (USD)
Price (GBP)
Price (EUR)
Dissociation solution for human ES/iPS cells
RCHETP002
30 mL
$ 139.00
£ 113.93
€ 133.08
Inquire about this product
Note: prices shown do not include shipping and handling charges.
Product Information
$refs.firstTab.focus())">
Gentle detachment of the colonies without using scrapers*
10 times more viability compared to trypsin
Long term culture without karyotype abnormality
For both of feeder-dependent and feeder-free culture
Each lot is functionally tested (Storage at −20 °C)
REPROCELL's Dissociation Solution (CTK solution) has been formulated by Prof. Nakatsuji and Dr. Suemori's team at Kyoto University specifically for human ES/iPS cells. It allows for gentle detachment of cells providing high levels of viability in subsequent passages. Dissociation Solution allows cell detachment without scraping and is ideal for use in automated protocols*. REPROCELL's Dissociation Solution has been thoroughly characterized to ensure optimal performance. High post-procedure viability of human ES/iPS cells (10 fold higher than trypsin).
[* when used in feeder-dependent culture or feeder-free culture with Laminin-5]
---
REPROCELL company name and logo is the property of REPROCELL Inc., Japan.
$refs.secondTab.focus())">
Product Name: Dissociation Solution for Human ES/iPS Cells
Catalog Number: RCHETP002
Size: 30 mL
Storage and Stability: Store at −20 °C soon after arrival. Thaw before use, and store at 2 °C to 8 °C after thawing. Use it up within about one week after thawing. Avoid repeated freezing and thawing
Quality Control:
Passage with high viability
Quick and easy operation
Each lot is culture-tested with human iPS cells (Takahashi K,

et al.,

Cell, 131, 861−72, 2007)
Inspected for sterilization and mycoplasma
Ready-to-use
Serum free
Notice To Purchaser: This product is for research use only, not for therapeutic or diagnostic purposes. It is not allowed to sell this product to a third party or use it for commercial purposes without permission from REPROCELL.
$refs.thirdTab.focus())">
Manual: