EZ-Open Top Flask 75 cm²
AG3193-025
Brand: Asahi Glass Company (AGC)
Increase your cell recovery to 99% (more than traditional culture flasks). Easy harvesting thanks to the leak-proof peel-off film cover. Suitable for horizontal and vertical incubation. Cell culture treated. Flask growing surface is of conventional flat design; contains no micro-wells.
---
Note: prices shown do not include shipping and handling charges.
Product code
Pack size
The Americas
UK, Europe, Middle East, Africa
(USD)
UK (GBP)
Europe (EUR)

AG3193-075

20 flasks (75 cm²)

$ 236.00

£ 140.90

€ 239.89

USA store
The Americas
Product code
Pack size
USD

AG3193-075

20 flasks (75 cm²)

$ 236.00

USA store
UK, Europe, Middle East, Africa
Product code
Pack size
UK (GBP)

AG3193-075

20 flasks (75 cm²)

£ 140.90

Europe (EUR)

AG3193-075

20 flasks (75 cm²)

€ 239.89
---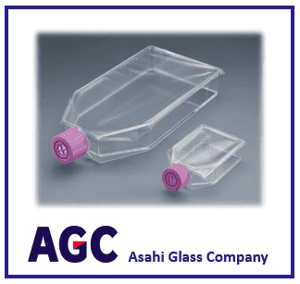 Smart design, EZ to harvest adherent cell culture suitable for iPS cells
The EZ Open Top Flasks from Asahi Glass Company (AGC) are designed for mammalian cell culture with uncoated, biologically compatible plastic surfaces. Made from polystyrene, and supplied ready-to-use, you can increase your cell harvest yields by as much as 6.5% thanks to the unique "peel-away" cover.
EZ Open Top Flask Features
Biologically compatible internal surfaces suitable for coating with iMatrix-511 (Cat. No.

NP892-01) or other ECM proteins
Peel-away cover for easy cell harvesting
Stable stackable design
Screw cap mouth with screw lid incorporating a 0.2 µm filter for breathability and sterility
Sterile and ready-to-use configuration

Specifications
Product Name: EZ-Open Top Flask 75 cm²
Catalog Number: AG3193-075
Size: 20 flasks
Storage and Stability: Store at Room Temperature
Sterility: sterile
Notice To Purchaser: REPROCELL is a licensed AGC global distributor of EZSPHERE and EZ-Open Top Flask products everywhere, except for Japan.
Manufacturer: Asahi Glass Company (Japan)
Flask Properties: Uncoated polystyrene tissue culture flasks