Predictive Drug Discovery Services


Genitourinary Assays
---
REPROCELL is able to offer an extensive range of assays in human genitourinary tissues including bladder, uterus and prostate.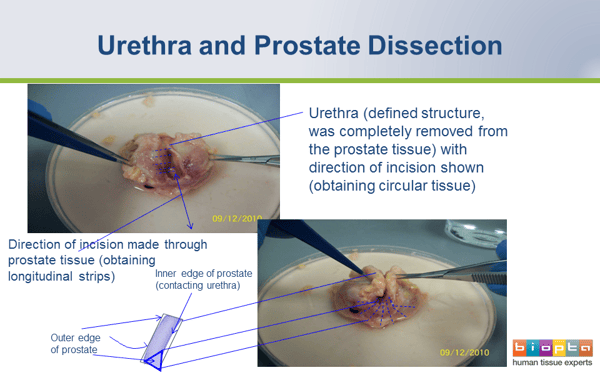 Utilising fresh functional tissues Biopta is able to screen for new treatments for disorders in a variety of genitourinary tissues. In addition, off target affects in tissues such as uterus can be investigated.
The illustration below highlights the fresh, intact nature of the ethically-donated tissues received at REPROCELL Biopta.
Our scientists are on-hand 24/7 to receive, dissect and experiment on a wide range of tissues at our laboratories in Glasgow, UK and Maryland, USA.
For more information and sample data, please click the appropriate link below to download our Human Bladder Studies flyer or visit industry first and only human functional tissue assay online catalog
Download Human Bladder Studies (PDF)
---
Genitourinary Assays in our Drug Discovery Assay Catalog
[B072] Contraction in human urethra (Adrenoceptor – Phenylephrine)
[B078] Contraction in human uterus (Vasopressin & Oxytocin Receptor – Oxytocin)
[B079] Contraction in human uterus (Vasopressin & Oxytocin Receptor – Vasopressin)
[B081] Relaxation in human uterus (Nitric Oxide Donor)
[B082] Relaxation in human uterus (Adrenoceptor – Isoprenaline)
[B083] Relaxation in human uterus (Calcium Channels)
Got to the Drug Discovery Assay Catalog »