Our organ bath model can be used to investigate the effect of your test article on gut motility. These studies can determine how drugs affect motility in a therapeutic capacity (e.g. to prevent diarrhea or to treat constipation, gastroparesis, or disorders of gastrointestinal sphincters or gallbladder) or from a safety perspective. Full-thickness circular or longitudinal gastrointestinal muscle strips can be used to investigate the effect of your test article.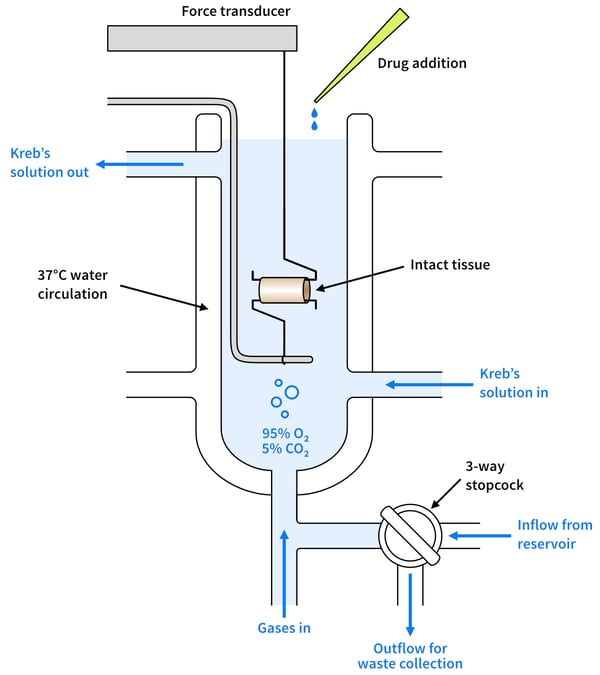 Diagram of the organ bath model we use to measure Gastrointestinal motility.
---
Intestinal motility
Changes in intestinal motility can lead to irritable bowel syndrome, diarrhea, and Ulcerative Colitis. In our electrical field stimulated organ bath model, we can measure changes in gastrointestinal motility in response to your test compound. The specific results that will be provided are the effects of increasing concentrations of test articles on the contractile state of isolated human intestinal tissue.
---
Gastric motility
Movement of the stomach is essential for the mixing of the stomach contents with gastric juices and to move the partially digested food from the stomach into the intestines. Using electrically stimulated human stomach tissue, we can assess whether your test articles cause a change in contractile force.
Stomach motility (motilin)
This assay investigates whether your test article causes a change in contractile force in electrically stimulated stomach tissue.
---
Lower esophageal sphincter motility
The primary function of the lower esophageal sphincter (LES) is to allow food transit from the esophagus into the stomach. An incompetent LES can lead to Gastroesophageal reflux disease, increasing the risk for metaplasia and esophageal adenocarcinoma.